Multitools are pretty essential in mountain biking. We mountain bikers beat up our bikes more than almost any other type of cyclists. Having a capable tool at the ready can easily mean the difference between a fun trailside repair and a very, very long walk home. Here's our round-up of some quality multi-tools that can be had for less than $30.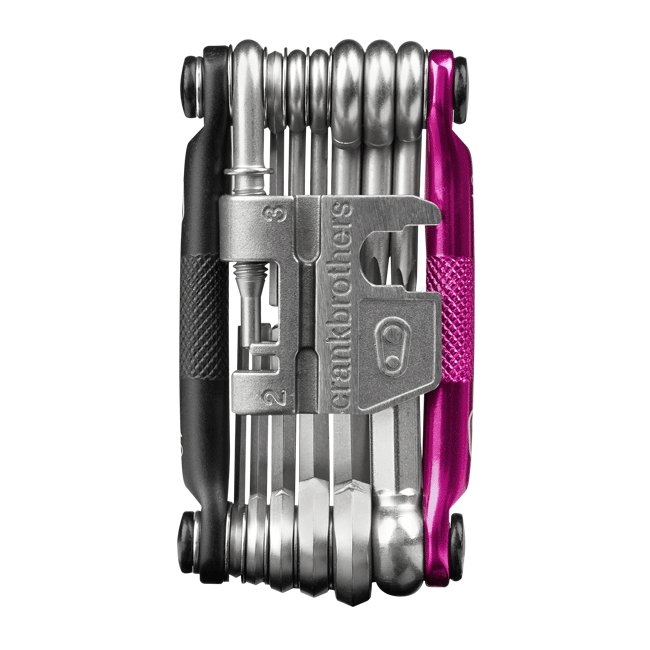 Crank Brothers M19
The Crank Brother's M19 is a 19 function folding multitool that features almost every tool you could want for most trailside repairs. The m19 includes a chain tool, 7 hex wrenches, 8mm and 9mm open wrenches, 3 screwdrivers, 2 torx drivers and a selection of spoke wrenches. You will find that tire levers are missing from this list. If you carry separate tire levers in your flat kit though this tool may be the perfect fit for you. In addition it comes in a variety of colors to match your bike or kit.
chain tool
spoke wrench: #0, 1, 2, 3
hex wrenches: #2, 2.5, 3, 4, 5, 6, 8
open wrench: 8mm, 10mm
screwdrivers: phillips #1, phillips #2, flat #2
torx: t-10, t-25

Topeak Hexus II
The Topeak Hexus II is a 18 function multi-tool that features a folding design and cleverly packed tire levers. The Hexus II also uses magnetic bit attachments to save space and allow one piece of the tool to serve multiple functions. As a RedDot design award winner, at a reasonable price, I would keep this one on your shortlist.
Chain Tool
Chain Hook
Screwdrivers: #2 Phillips / Flat Head
Spoke Wrenches: 14G / 15G
Tire Levers:
Torx: 25
Allen Wrenches: 2, 2.5, 3; 4, 5, 6, 8

Lezyne RAP-20 
The Lenzyne rap 20 come with 20 different functions, all of which fold out from the main body of the tool. Some of the unique tools include a bottle opener (a very common trail ride need) and a disc brake shim. You get one tire lever in this tool instead of two however.
Spoke Wrenches: Mavic Mtv, 3.22, 3.45
Hex: 2, 2.5, 3, 4, 5, 6, 8mm
Torx: T25, T30
Tire Lever
Open end 10mm
Screwdriver: Phillips & Flat Head
Bottle Opener
Open End 8mm
Disk Brake Wedge
Chain Breaker: (8/9/10/11 speed)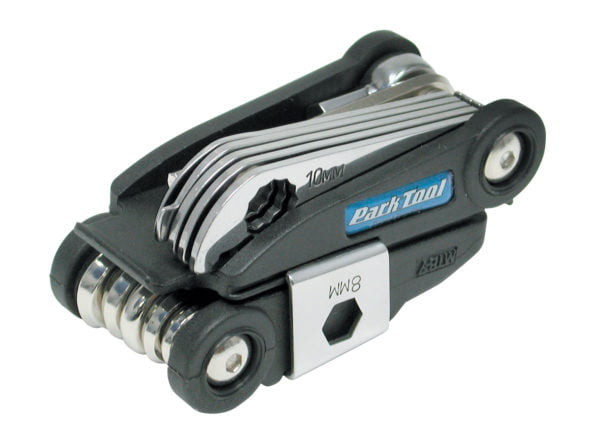 Park Tool MTB-7
The Park Tool MTB 7, does not fold out in the same manner as many of its competitors. Instead it uses a somewhat odd sliding method that splits the tool into two parts. The advantage of this is that you can potentially use tools on both halves at the same time. Strangely the MTB-7 features a knife, but doesn't feature a chain tool.
Hex: 2, 2.5, 3, 4, 5, 6, & 8mm
Torx: T25 ® compatible driver
Screwdrivers: Flat blade and Philips
Tire levers (2)
Spoke Wrenches: 0.127″, 0.130″, & 0.136″
Box End Wrenches: 8, 9, & 10mm
Chainring nut wrench
Dust cap remover
Serrated knife
Bottle opener
That's our round-up of nice mountain bike multi-tools for under $30. Have another one you would suggest? Let us know in the comments.