The word is out. 29ers are no longer just for XC racing. 29ers have cemented a place in many bike makers lineups as do it all trail machines. These bike are extremely capable, able to tackle all day epic rides and hold their own in a bike park. The criteria we used to define "mid-travel" is  bikes featuring greater than 120mm of front suspension and trail oriented geometry. In this round-up we'll be looking at some of the best value priced bikes in this category. While $3000 is still a ton of money we'll try to cover an entire price range of bikes. I won't be going into geometry specifics or linkage differences. With bikes in this range, you are getting a good linkage and good geometry with every bike and any differentiation is going to be nuanced personal preference.
YT JEFFSY® 29 AL – $2,299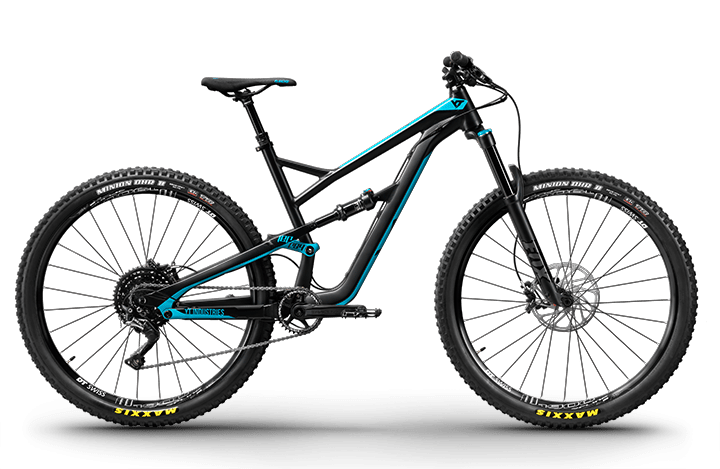 The YT Jeffsy packs quite a punch with a unique buildkit. You will find fox providing 140mm of suspension on the front and rear of this bike. Where things get interesting is in the drivetrain. YT has opted to build out the Jeffsy with a Shimano SLX 11 speed derailleur paired with an 1×11 e*thirteen TRS+ cassette. The TRS+ is usually an aftermarket addition for those looking to increase there gearing range. So finding it specced on a stock build is a bit of an oddity. Boasting a 511% gear range the TRS+ outperforms SRAM Eagle transmissions by 11% in regards to sheer range. You will pay for that range though with larger jumps between ratios.
Ethirteen also provides the dropper for the Jeffsy which for some people is a very desirable dropper. User serviceable and fully mechanical, the ethirteen TRS+ dropper promises to be reliable and simple to maintain. Right next to that dropper lever you will find SRAM Guide R brakes that slow down those big 29in DT SWISS M 1900 SPLINE wheels. Overall it's hard to find fault with YT's build here and the price is the lowest of all the bikes in this roundup.
| | YT JEFFSY® 29 AL |
| --- | --- |
| | |
| Fork | FOX 34 FLOAT RHYTHM |
| Shock | FOX DPS PERFORMANCE |
| Drivetrain | SHIMANO SLX 11speed with E*THIRTEEN TRS+ cassette |
| Brakes | SRAM GUIDE R |
| Wheels | DT SWISS M 1900 SPLINE |
| Dropper Post | E*THIRTEEN TRS+ |
| Price | $2299 |
| Website | Read More |
| | |
| | |
| | |
Trek Fuel EX 7 29 – $2,499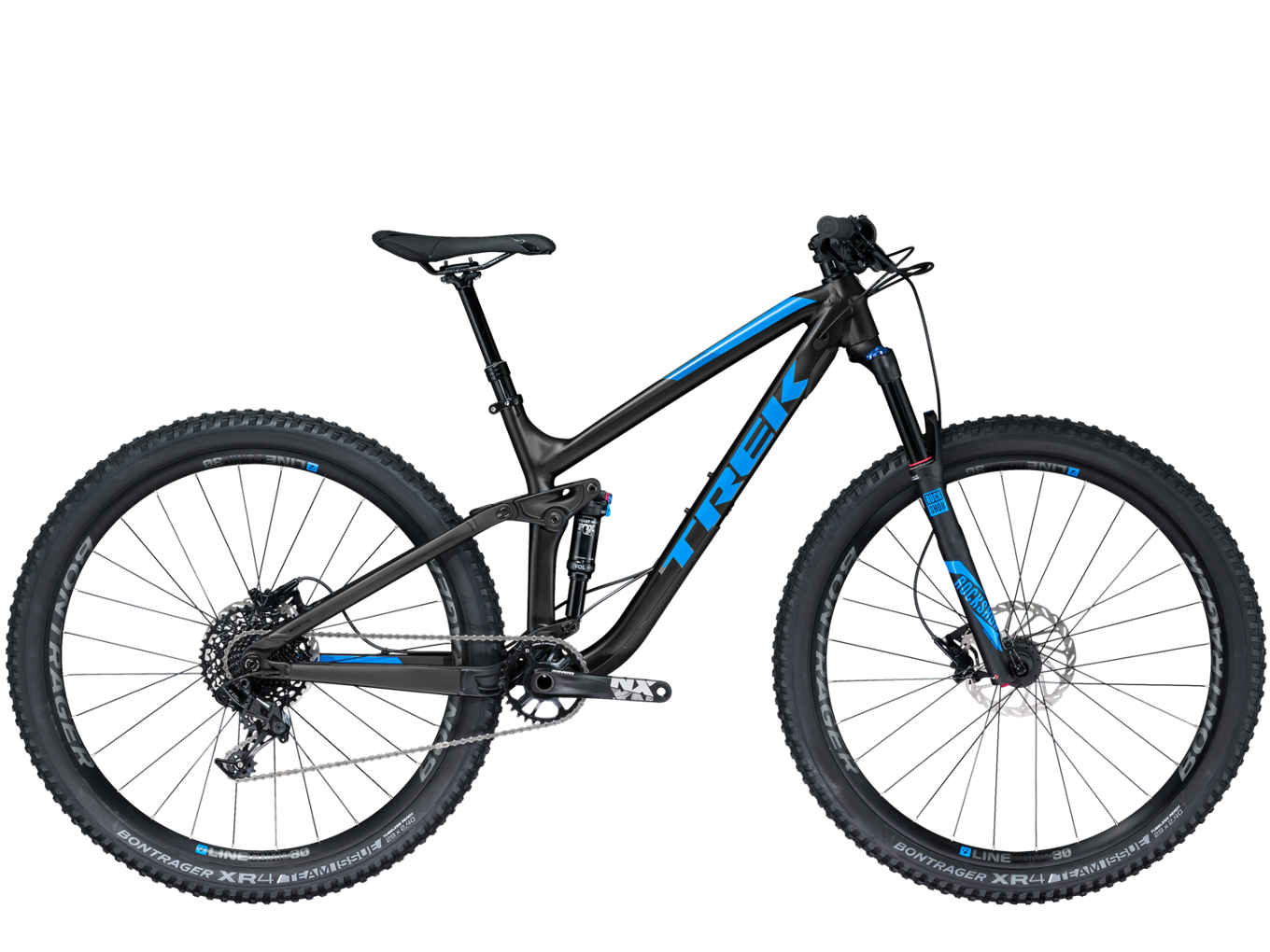 The Trek Fuel is a proven platform and for 2018 it seems like Trek has finally figured out how to spec the lower end model, the EX 7, with a decent build kit. The Fuel features 130mm of travel in the front and rear provided by a Rockshox Reba fork and a Fox Performance Float EVOL shock. The drivetrain is all SRAM but from their lowest end one by offering, NX. Braking power is also provided by SRAM with the Level T system. If you are looking for a retail brand that you can find at a local bike shop, the Trek Fuel EX 7 has to be one of the best values in this category.
| | Trek Fuel EX 7 29 |
| --- | --- |
| | |
| Fork | RockShox Reba RL 130mm |
| Shock | Fox Performance Float EVOL |
| Drivetrain | SRAM NX, 11 speed |
| Brakes | SRAM Level T |
| Wheels | Bontrager Line Comp 30 |
| Dropper Post | Dropper post, Bontrager lever |
| Price | $2499 |
| Website | Read More |
| | |
| | |
| | |
Stumpjumper Comp Alloy 29 – $2,800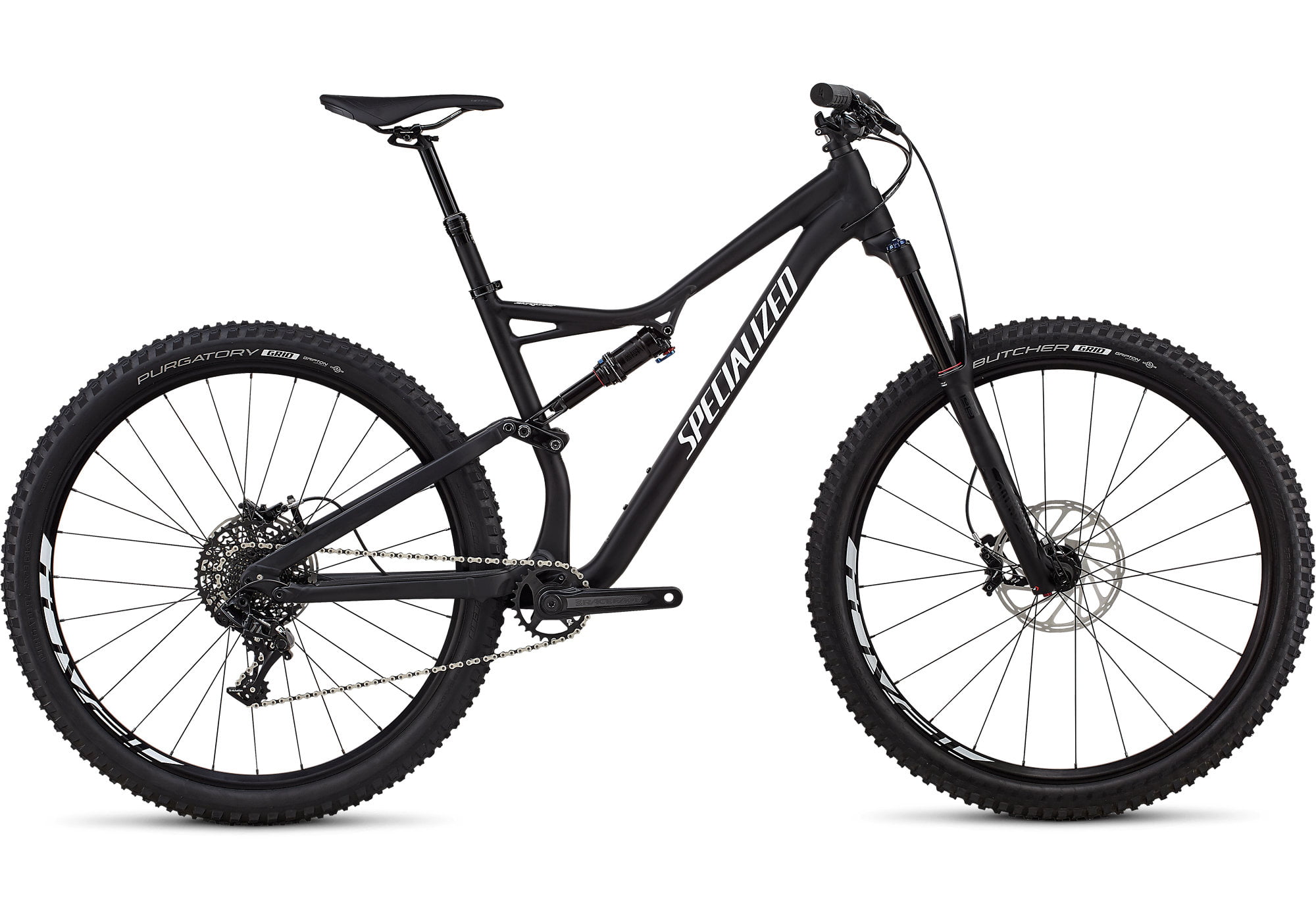 The Stumpjumper is the highest priced bike in this roundup. However, for that price you are going to arguably get a little more value in a locally supported brand than the Trek Fuel. The Stumpjumper runs the same Rockshox Reba fork but at 150mm of travel paired with a RockShox Monarch RT running at 135mm of rear travel.
The drivetrain and brakes however are upgrades from Trek's offering. Featuring SRAM GX 11 speed shifting and SRAM Guide R brakes. You also get the Specialized command post and Race Face Aeffect cranks. This bike is the longest legged bike in this roundup and I like that specialized has chosen to put more suspension out front than in back.
| | Specialized StumpJumper Comp Alloy |
| --- | --- |
| | |
| Fork | RockShox Reba RL 140mm |
| Shock | RockShox Monarch RT |
| Drivetrain | SRAM GX 11spd w/ Race Face Aeffect cranks |
| Brakes | SRAM Guide R |
| Wheels | Roval Traverse 29 laced to Specialized hubs |
| Dropper Post | Command Post IRcc |
| Price | $2800 |
| Website | Read More |
| | |
| | |
| | |
Salsa HorseThief – $2,699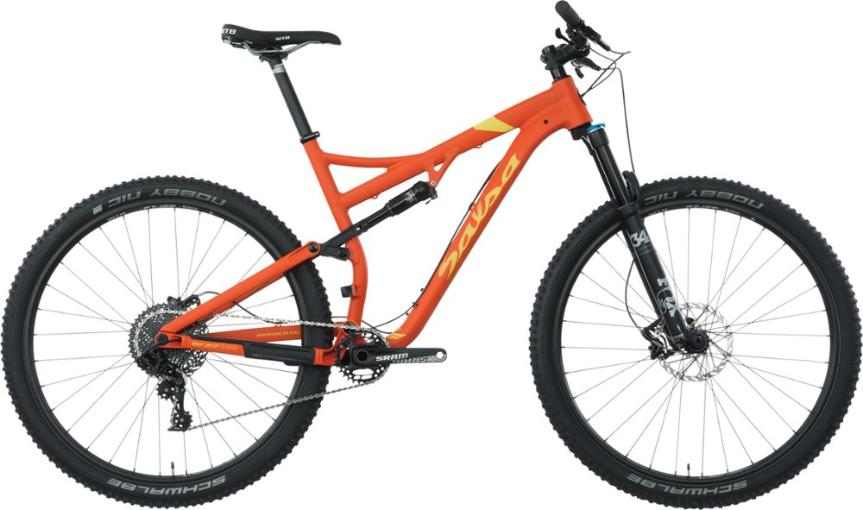 Salsa hasn't announced any changes to the HorseThief for 2018 but the 2017 model is still competitive. Specced with 130mm of travel up front and 120mm out back it's the shortest legged bike in this list. But that may suit many riders well. Suspension is Fox Float front and rear, and the drivetrain is an interesting combination of a Sunrace cassette and GX derailleur along with a SRAM s1000 crankset. It also doesn't feature a dropper, but if you haven't taken a gander, check out the lesser known Salsa HorseThief.
Salsa Horsetheif GX1
Fork
Fox Float, 130mm travel
Shock
Fox Float DPS, 120mm travel

Drivetrain
SRAM GX 11spd w/ SRAM S1000, X-SYNC 30t cranks and Sunrace 11-42t cassette
Brakes
SRAM DB5
Wheels
WTB i29 TCS
laced to Salsa hubs
Dropper Post
None
Price
$2699
Website
Read More
Bonus Bike – Canyon SPECTRAL AL 6.0 – $2,399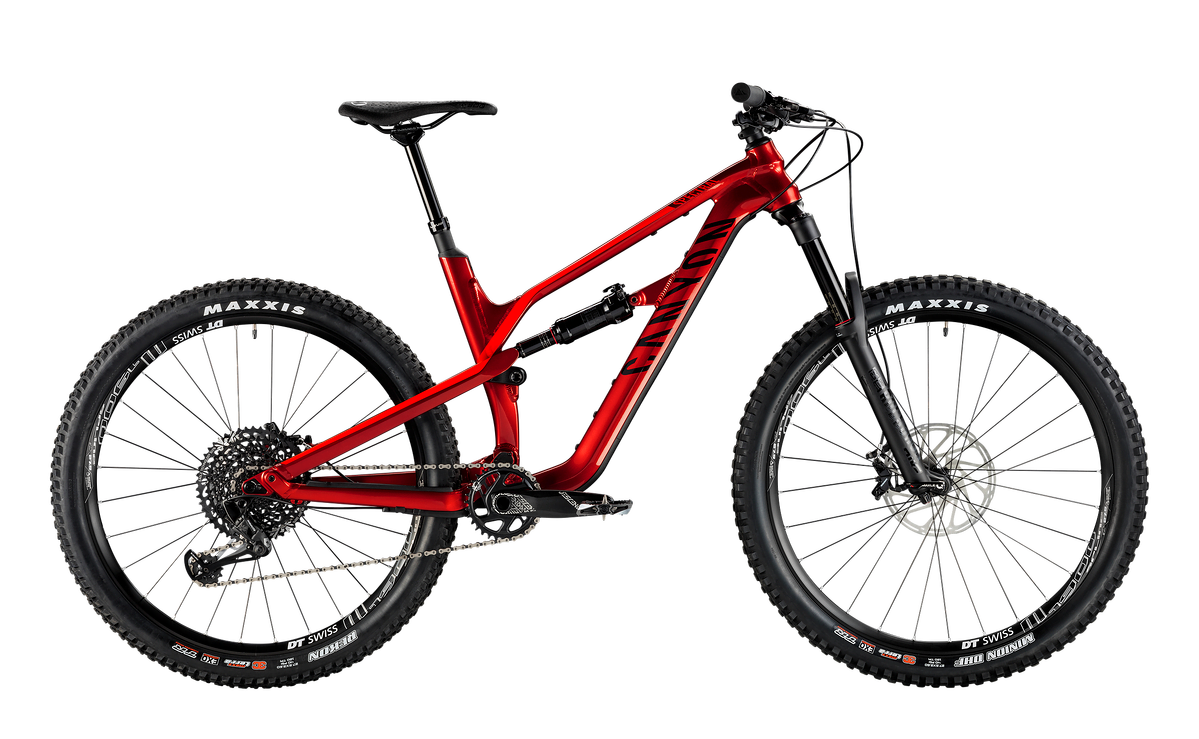 If Rockshox suspension, SRAM drivetrains and 27.5 wide trail tires are your jam, then the Canyon Spectral has your number. Yes, yes it's not a 29er, but in this price point I think it deserves a look.
Featuring a ROCKSHOX PIKE RC 150mm up front and a ROCKSHOX DELUXE RT in the rear, the Canyon comes with enough travel for almost any party. It should be able to get you back up the mountain in ease too, with a SRAM GX Eagle drivetrain. The Canyon features the same SRAM GUIDE R brakes and DT SWISS M 1900 SPLINE wheels that the Jeffsey does. It leaves the SRAM theme though with a KS LEV SI dropper, which is a perfectly acceptable dropper post, especially at this price point, where many brands fail to include a dropper at all.
| | Canyon SPECTRAL AL 6.0 |
| --- | --- |
| | |
| Fork | ROCKSHOX PIKE RC 150mm |
| Shock | ROCKSHOX DELUXE RT |
| Drivetrain | SRAM GX EAGLE, 12S |
| Brakes | SRAM GUIDE R |
| Wheels | DT SWISS M 1900 SPLINE |
| Dropper Post | KIND SHOCK LEV SI |
| Price | $2300 |
| Website | Read More |
| | |
| | |
| | |
Did we miss any? Which is your pick for a mid-travel 29er?