The Fixit Sticks Mountain Kit is a different take on your traditional Mountain Bike Multi-Tool. But, does its unique t-handle design offer tangible advantages? We've been putting the Fixit Sticks through their paces both on the trailside and in the shop. Find out what we thought next.
What Is It?
For the uninitiated, the Fixit Sticks basic platform is a collapsible t-handle tool that stores bits in both ends of each component of the t-handle tool. There are clever magnets that facilitate the bit retention and two handles snapping together.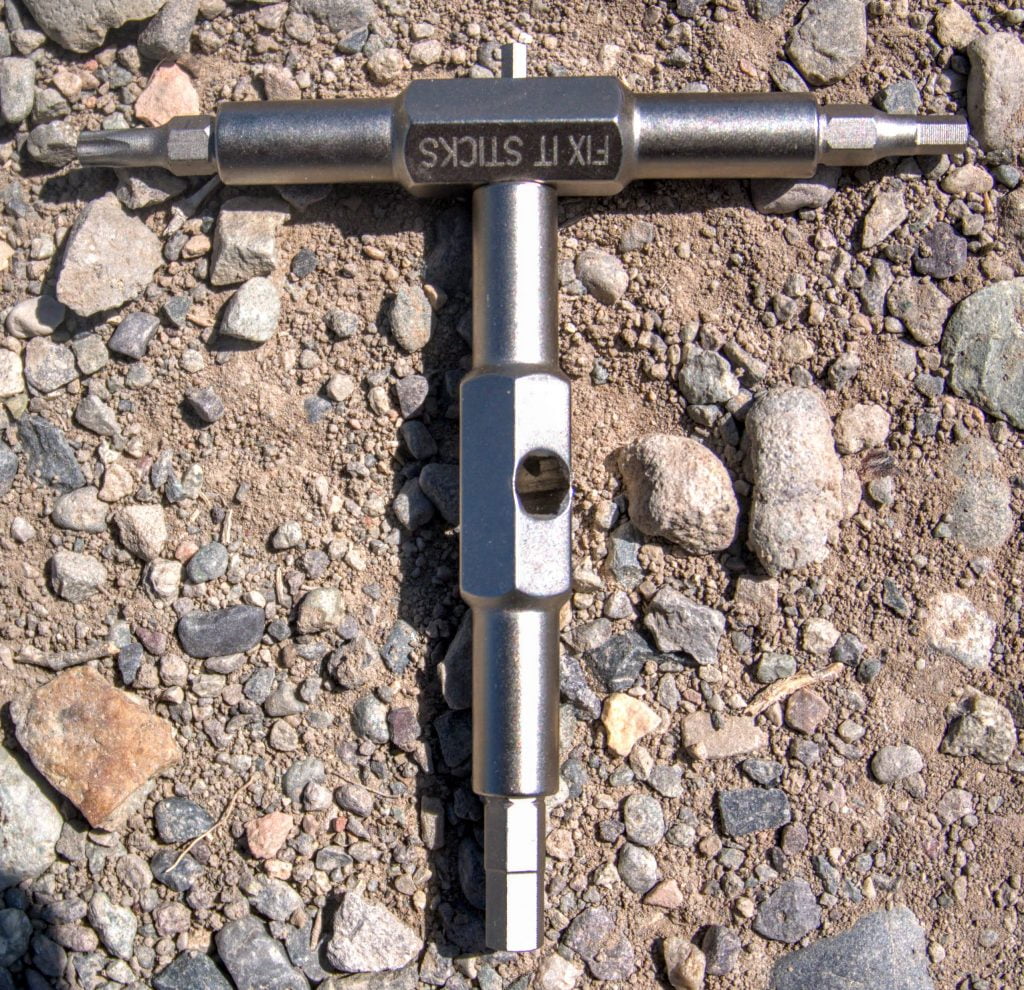 In total, the two sticks themselves will hold 4 bits. This is a bit slim for covering all of the fasteners on a usual mountain bike, so the Fixit Sicks Mountain Kit contains a bracket to hold the two sides for storage along with 4 more bits. This means that in all you get 2, 2.5, 3,4, 5, 6 mm hex, T-25, and P2 Bits.
Bike multi-tools are more than just hex and Torx bits, however. So the Mountain Kit also includes tire levers that attach again with magnets to the two sticks. These tire levers are probably a bit more robust and give you more leverage than your average multitool tire lever.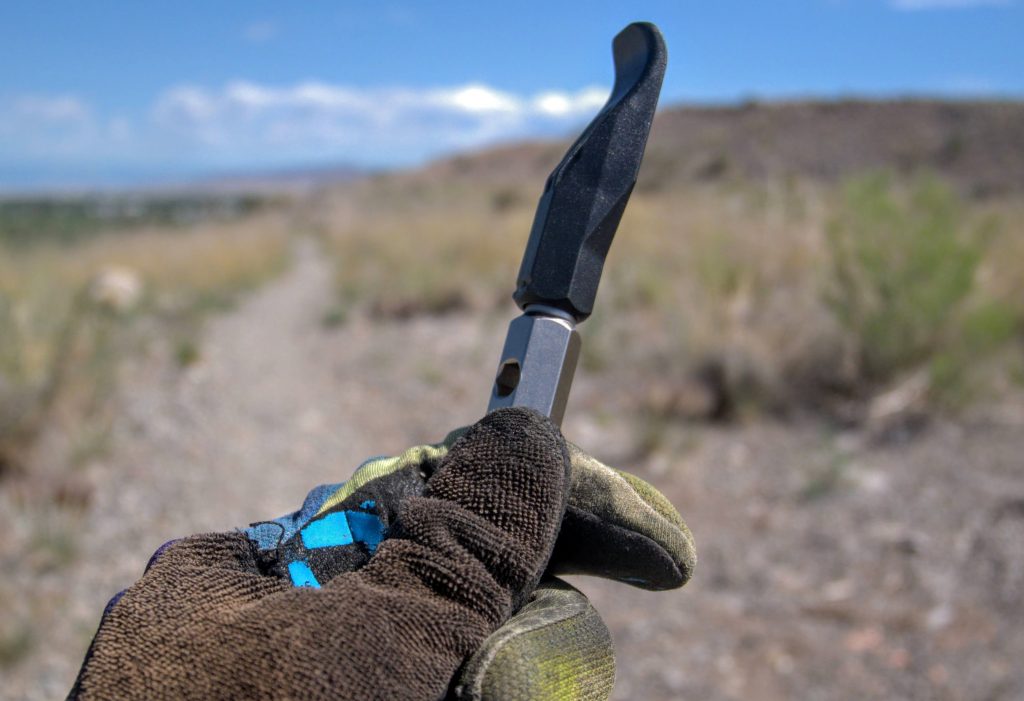 Chain breaking is also an essential function of multi-tools in my opinion. Fixit sticks include a chain breaker that utilizes the two sticks and the handle and rotating arm. This works pretty well. It is again magnetically attached, though unlike all the other components I found the connections a bit less secure when fiddling with breaking a chain.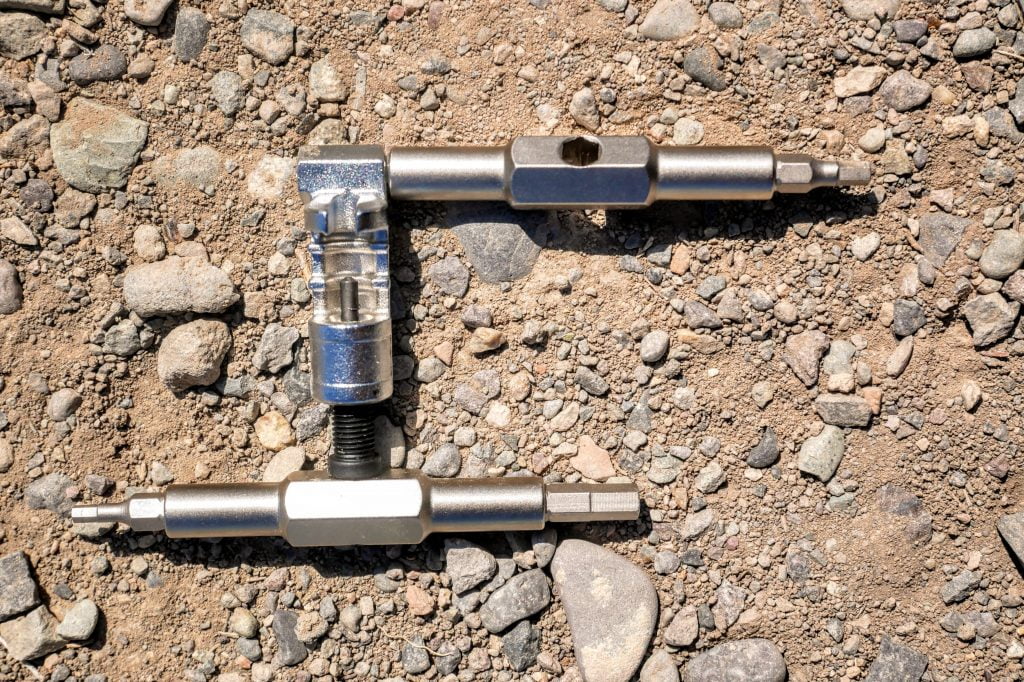 All of these items are held in a black pouch with some netting pockets and room to spare for other items you may want to carry. We'll talk about these other items below.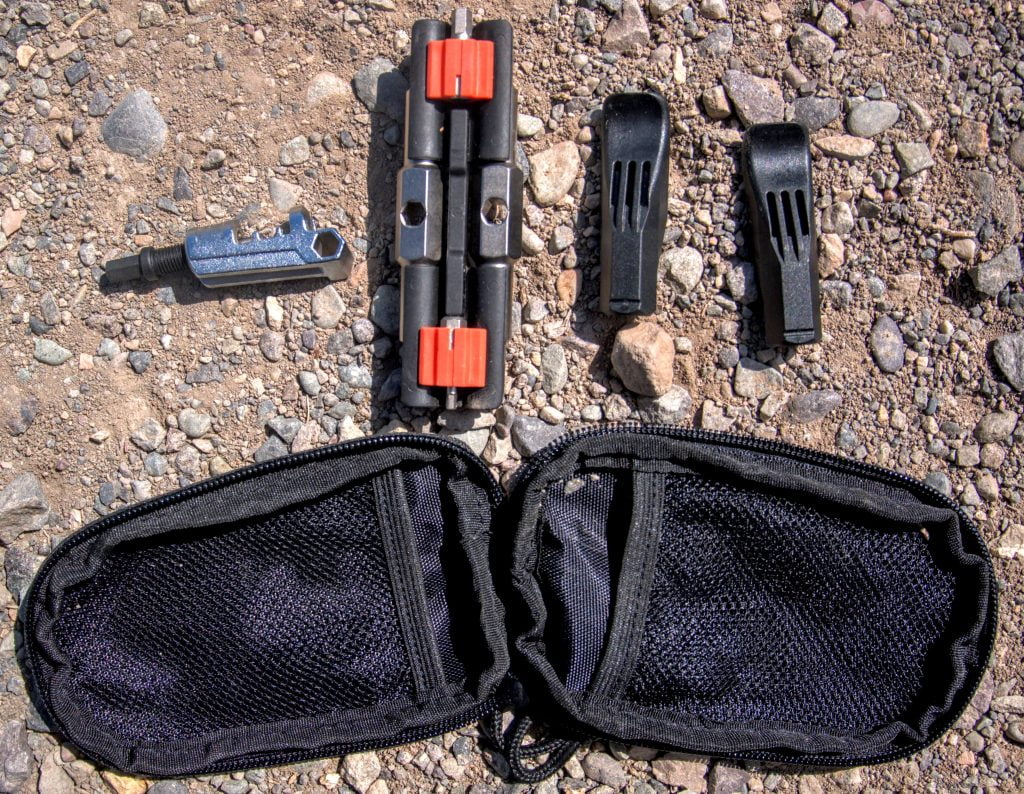 In Use – Positives
So that's the tool. What is it like to actually use? It's honestly a mixed bag. I'll try to lay out what I like and what left me wanting.
Each component of the Fixit sticks feels sturdy and well made. The magnetically locking t-handle has a satisfying click every time you put it together. The t-handle itself does provide good leverage when tightening or loosening fasteners.
In Use – Negatives
This, however, is about where the positives stop. The Fixit sticks suffer from the "loose bits" issue. The "loose bits" issue, in summary, is this: A multitool in the field is made immeasurably harder to use the more individual pieces it has. The Fixit sticks have more individual pieces than any other multitool I've ever used. Every time I open the carrying bag I risk have bits and bobs roll out and be lost or getting very dirty rolling around is the dust and mud of trail.
The modularity of the Fixit sticks, which makes them flexible, also has a downside. When using the Fixit stick I never knew where exactly 3mm vs my 4mm hex was. It could be on any end or in the extra bits older. I found I spent more time searching for the right bit than with a traditional "fold-out" multitool where each bit stays in the same location.
Finally, I found that I needed to back along additional tools to cover all of my commonly used tools. One big example for me, is that there are no spoke wrenches. I've used spoke wrenches pretty frequently to do on trail "true" after a hard hit or re-tighten a spoke that has come loose. For more examples, let's compare the tool list of a Topeak Hexus X and the Fixit sticks:
| | | |
| --- | --- | --- |
| Tool | Topeak Hexus X | Fixit Sticks |
| 2mm hex | X | X |
| 2.5mm hex | X | X |
| 3mm hex | X | X |
| 4mm hex | X | X |
| 5mm hex | X | X |
| 5mm hex | X | X |
| 6mm hex | X | X |
| 8mm hex | X | |
| T15 | X | |
| T25 | X | X |
| T30 | X | |
| #2 Phillips | X | X |
| 14G Spoke Wrench | X | |
| 15G Spoke Wrench | X | |
| Tire Levers | X | X |
| Presta Core Tool | X | |
| Chain Tool | X | X |
| Chain Link Fence | X | |
| Weight | 6.0 oz | 9 oz |
| Price | $29.95 | $54.00 |
Conclusion
Being different for the sake of being different doesn't necessarily make a concept better. The Fixit sticks are not a superior trailside multi-tool. It may have a place as a travel or shop tool but you need to like the configuration for it to be worth the cost.