I've been riding a Kona Process 153, gen 3 for the past few years and the time has come for an upgrade. The brand I purchased from has recently added a consumer direct model, so I'll be showing you how they ship their bikes out for consumer direct deliveries. You might be familiar with this brand because it's a big one – I bought a bike from the "Big S", Specialized. Specifically, the Status 160.
Let's take a look at what comes in the Specialized consumer direct box. The first thing I noticed after pulling off the outer box, is the small parts box.
Small Parts
Inside this parts box, I found an assembly guide and a torque wrench that has bits for all the standard things I'd need to assemble the bike. This is pretty standard for most consumer direct higher end bikes these days. There was also some digital shock pump, which is a nice touch.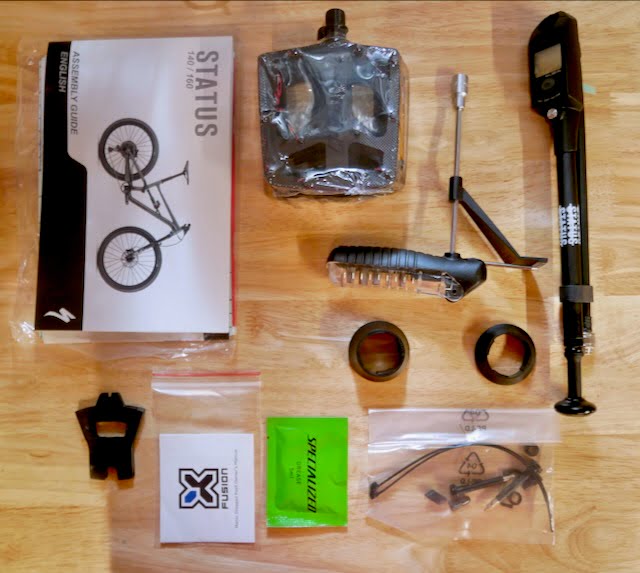 The valve stems are included for doing a tubeless setup on this bike out of the box, which is really handy. I also found all the rest of the manuals and some grease, which is something I haven't seen with a consumer direct bike before. Specialized also includes a set of extra frame protectors, which is a nice touch.
Assembly
Now, let's talk about the bike itself. The handlebars were fully free-floating in the box, so I just had to pull out the tabs to free them up. The brake levers and the shifter and dropper post levers were all already set up and attached together using the SRAM matchmaker system. I didn't even have to remove the grips because of the SRAM code levers have clamps that can be fully opened.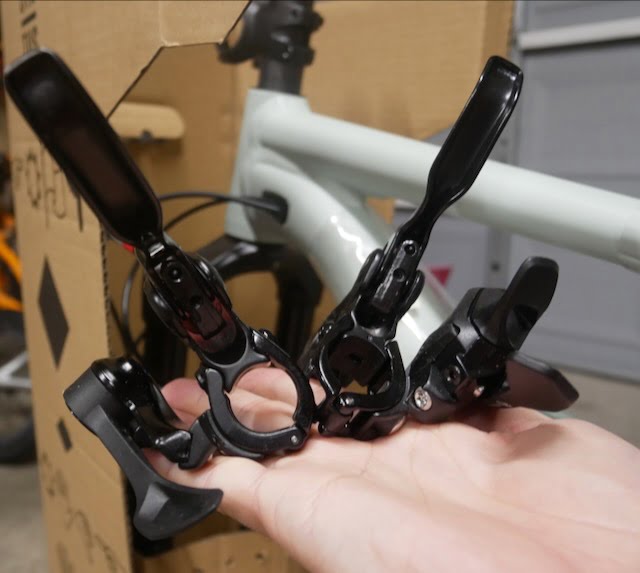 The brakes and dropper were all adjusted properly from the factory. One issue I noticed is that the chain did fall off the biggest cog when backpedaling, but this is not uncommon for the NX Eagle drivetrain. After only about 10-15 minutes, I had the bike built up and pretty much ready to ride.
Overall, I have to say that Specialized did a bang-up job on the packaging and on the build. It was super easy to assemble and couldn't have gone more smoothly. They even threw in a bottle cage with a built-in multi-tool, which is something I wouldn't expect to see on many other consumer direct bikes.
This isn't the last of this bike that we'll see on EverydayMTB. Be sure to check back soon for more details as I customize this bike to my liking.