When I purchased my Raleigh Tokul 3 I knew I would be doing several upgrades. The first stock part to go was predictably the heavy tubes and tires. My rims were already taped for a tubeless setup so I set about searching for a new set of treads.
The first thing that I noticed as I began my search is that there is a price to be paid for being an early adopter of the relatively new 27.5+ trend. Unlike 29rs there were very few "deals" to be found. This was helpful in many ways because my decision would be made almost entirely based on the kind of tire I wanted instead of settling for a tire based on price.
I do most of my riding in the rolling hills of Wisconsin so I didn't need a super aggressive tread. I also was planning on doing some cross country racing with my Tokul so I needed something that would be lite weight and fast rolling. After much hemming and hawing I decided on the Schawlbe Rocket Ron 2.8 with the snakeskin casing. This casing is the heavier of the two casings that they produce this tire in. I also chose the pacestar compound which focuses on durability and faster rolling.
Setup
I ordered the tires along with some Stan's sealant and Stan's valve stems with removable cores. Once I pried the weighty wire-beaded Kendas off my rims the tubeless setup was a cinche. With the removable valve cores I was able to inject 4oz of sealant into each wheel and they both sealed up easily with no weeping or other issues. A shot of air from my compressor and I had my front and rear inflated to 16lb of pressure.
Ride Quality
The lightness of the Rocket Rons was immediately apparent the first time I threw my leg over the bike. Removing all of that rolling weight immediately made my Tokul feel much more responsive. On each wheel I dropped 600g  of rolling weight by swapping tires and replacing my tubes for sealant. That gave me a total drop in weight of over 2.6lbs. Huge difference.
In addition to the pure lightness, the Rocket Rons have a ton of feel. The suppleness of the casing on this tire truly brings out the best in the 27.5+ format. Moving from 30tpi stock tires to 127tpi was an unmistakable difference. I've ridden these tires at a variety of pressures (I'll come back to this) and I've never felt them get squirmy or unpredictable.
The tread on these tires is based on Schwalbe's skinnier tire cross country brethren and it shows in their rolling efficiency. The tires are easy to get rolling and hold speed well once you have your momentum going. On pavement I've had no problem spinning out on my 30t-11t drivetrain. There is some sacrifice in all out grip but in my experience they lose traction predictably and I haven't had any surprises.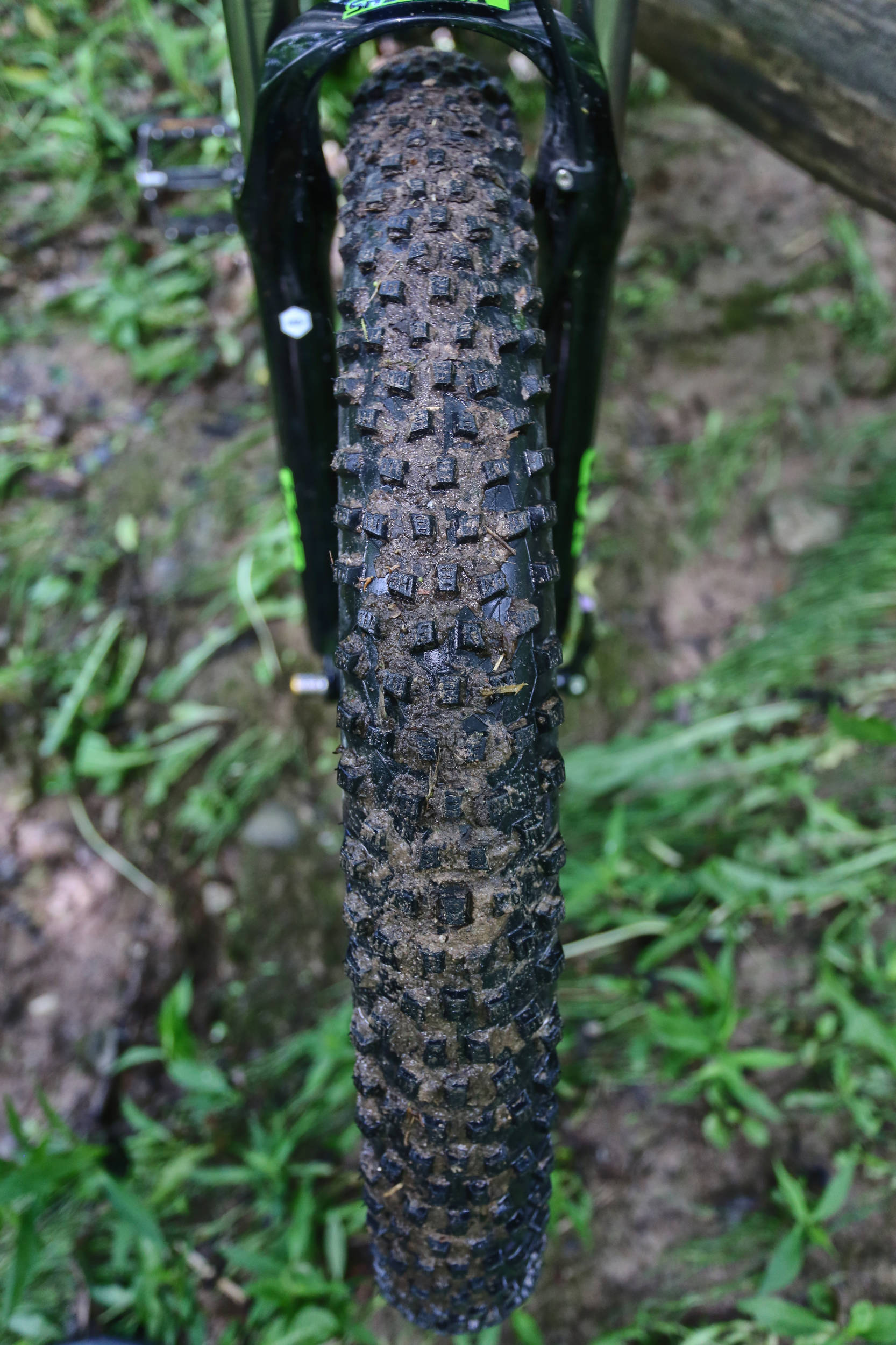 I don't tend to ride muddy trails as I am also a trail builder and realize how much damage can be done even in a single pass, but I have had the chance to send these tires through a few races, one of them being a somewhat muddy affair. Overall, they shed the mud pretty well and kept me going. I needed to get up to about 8mph before they would really clear out perfectly though.
Durability
This final section of my review has been my biggest disappointment with these tires. Schwalbe produces both a liteskin and a snakeskin casing version of these tires. I opted for the snakeskin version which is the more robust of the two. Even with the thicker casing though, I managed to, within a couple of weeks of mounting the tires, slice through the tire on a rocky section. The slice was big enough that I ended up needing to patch the tire.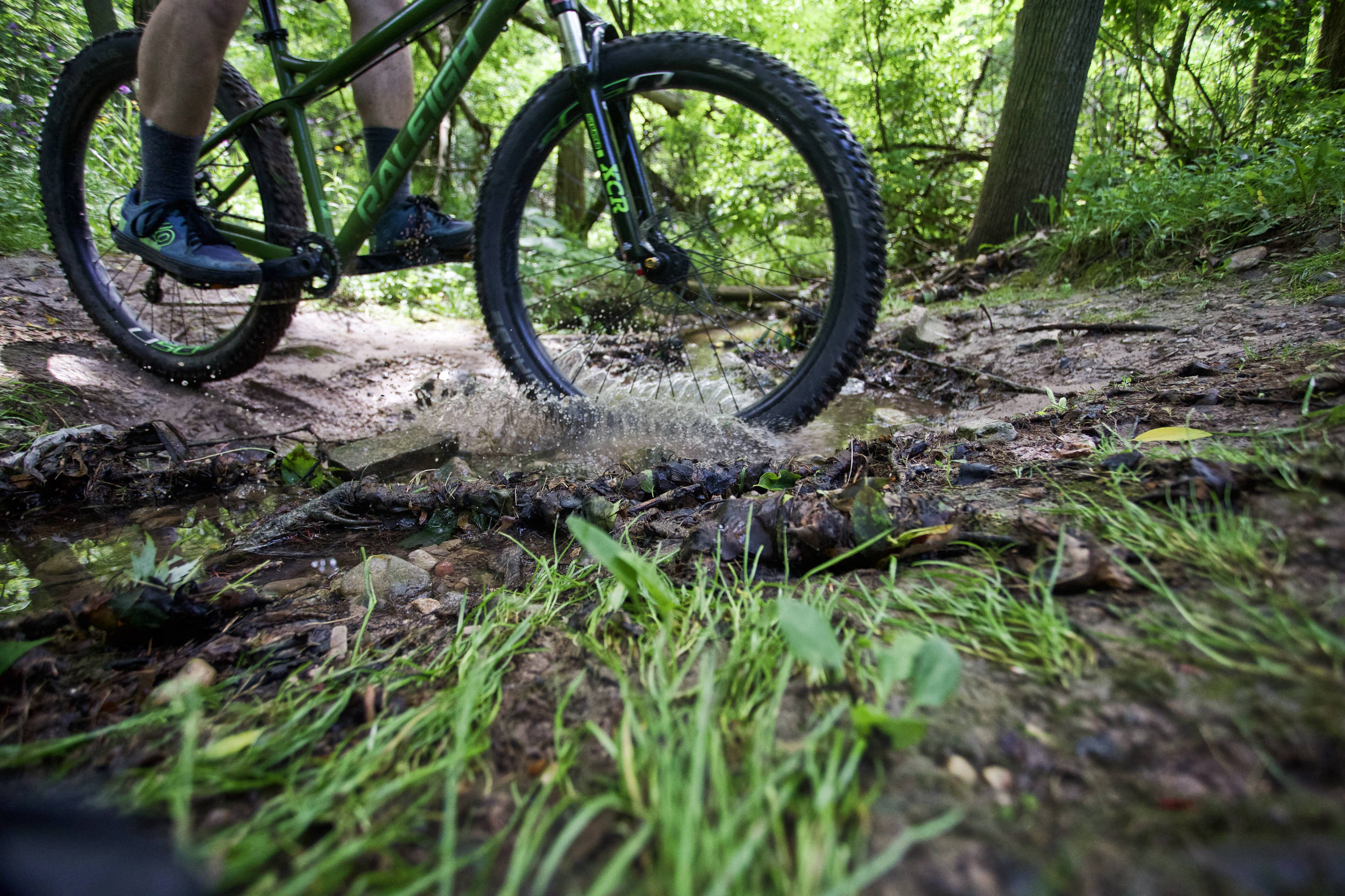 Since then, I've punctured the tire set two more times, one time when a stick went through the tire and another when I took a  hard hit and bottomed out onto my rims. Flats really kinda get me down so I don't feel like I've found the perfect plus tire for my riding style yet. If I could get a little more durability with the great traction and rolling resistance that these tires provide, I would be a happy camper.
All this being said, if you are looking for a fast rolling 27.5+ tire. The Rocket Ron should definitely be on your shortlist.
Pros:
Weight
Easy Setup Tubless
Rolling Resistance
Suppleness / Feel
Predictable Grip
Cons:
Durability
Some sacrificed grip
Price
Buy Now