Enduro is becoming a more popular racing format, but more than that we continue to ask our bikes to go faster down more gnarly terrain. Even if you don't plan on racing, an "enduro" bike may be the right next bike for you. If you visit lift access bike parks, jump lines and like to go on 4-5 hour rides, modern enduro bikes can do it all. Today we'll be looking at a number of great enduro bike options at the lower end of the price spectrum.
The prices and bikes listed here are a bit dated at this point. Check out our updated round-up here: Top Sub $3000 Enduro Bikes in 2022.
Best Spec 27.5 Option – Canyon Spectral AL 6.0
The Canyon Spectral AL 6.0 is a 160mm by 150mm travel enduro bike. Equipped with a FOX 36 Rhythm fork, Float DPX2 rear shock, SRAM GX Eagle drivetrain, SRAM Guide R brakes and DT Swiss M1900 wheels this bike comes with the most complete build in our list. With this great spec though you may not be getting the most progressive geometry. With one of the shortest reaches and slackest seat tubes in our list the Spectral AL 6.0 geo chart is looking a little long in the tooth. In addition it is one of only 2 27.5 bikes on this list. The trend in enduro racing is toward 29ers so if you are looking for all out speed the Canyon may not be the right bike. On the other hand if you find yourself still loving the "little wheels" Canyon provides a ton of bang for your buck.
Price: $2,899
More Info
Most Unique Build – Ibis Ripmo AF NX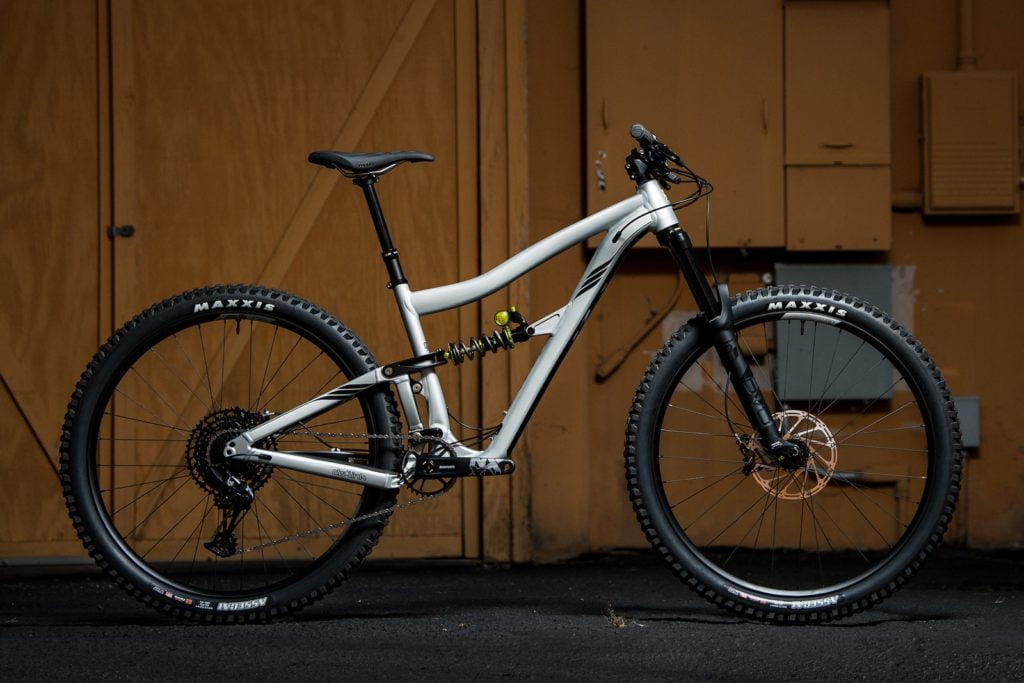 Ibis, which has long been outside of the financial reach of many, just dropped a new version of the Ripmo 29er in aluminum for $3k. Not only has this been a much buzzed frame design but Ibis has worked to outfit the Ripmo AF with DVO's top of the line suspension with a Diamond D1 fork. This gives you additional controls such independent high and low speed compression not usually found in this price point. In other areas of the bike the spec if a bit more modest, but still respectable featuring NX Eagle drivetrain and SRAM Guide T 4 piston brakes.
Price: $2,999
More Info
Best Spec 29 Option – YT Capra 29 AL Base
Available in both 29 and 27.5 versions, the YT Capra AL Base features a beefy 160mm by 160mm suspension that is supplied by a Rockshox Lyric RC and Rockshox Super Deluxe. This is one of the nicest suspension specs in this list. It also comes equipped with SRAM Code R brakes paired with 200mm rotors front and rear which you would not be surprised to find on a full downhill bike. If you're a bigger individual the YT Capra should be able to keep your speed in check with ease. The drivetrain is also a decent spec with the SRAM NX Eagle setup.
Price: $2,599
More Info
Budget Option – Commencel Clash Origin 2020
If you are looking for the cheapest way to get into a ridable Enduro bike the Commencel Clash Origin 27.5 bike may be your ticket. At $2,299.00 it's a good $700 less than many of the other bikes on this list. What do you give up for that price? First, there's no dropper so you'll either be supplying your own or going without. In addition, your looking at SRAM SX Eagle as apposed to GX or NX that you find on most builds. You also will find a Rockshox Deluxe shock out back so no piggy back for this budget pick.
Price: $2,299
More Info
27.5 Bike You Can Find at Your Local Shop – Rocky Mountain Altitude Alloy 30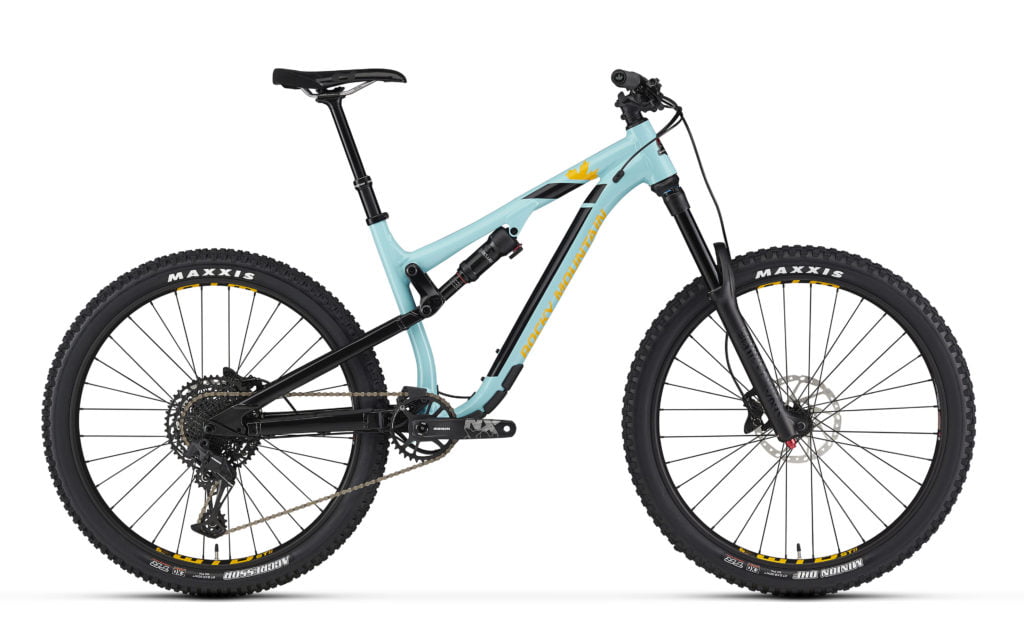 If you want to be able to buy a sub $3000 enduro bike from your local shop, Rocky Mountain may have an answer. The Altitude Alloy 30 is a 160mm x 150mm 27.5 enduro bike. You'll get an SX Eagle Drivetrain and a Rockshox Yari and Rockshox Deluxe suspension setup. The stopping power however diverges from SRAM with a Shimano MT420 4 Piston spec. The dropper is a house branded Rocky Mountain Toonie Drop. Overall is a good starter spec and you'll be able to try this bike out at a local shop or demo.
Price: $2999
More Info
29er You Can Buy At Your Local Shop – Kona Process 153 29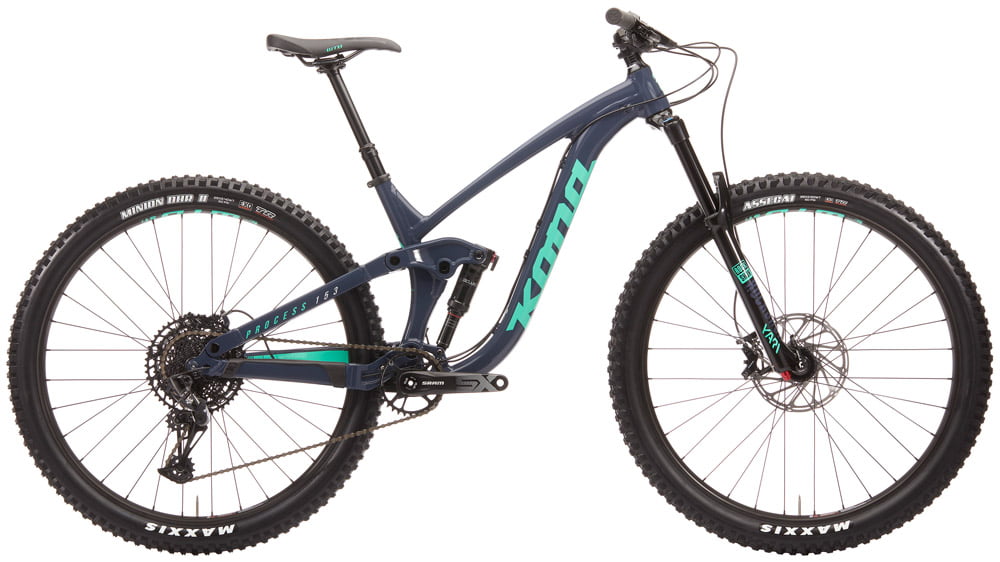 Kona wrote the book on new school geometry and the Kona Process 153 is still a solid contender. This 160mm x 153mm design is a battle tested formula. You'll find the familiar Rockshox Yari and Deluxe shock surrounded by a mix of NX and SX level 12 speed drivetrain components. Also you'll get the common Guide T brakes paired up with 200mm and 180mm rotors.
Price: $2799
More Info