Handup is a bike apparel company known mainly for its gloves. They even have "hand" in their name. Recently though they've branched out into other apparel as well. Handup sent us over a pair of their new A.T. (All Time) riding pants for review, and boy am I glad they did.
Finding pants that work well for mountain biking can be a challenge. It seems many apparel companies spend 90% of their energy working on shorts. Pants, if even included in a line, are an afterthought. I must say I'm not at all a fan of the shorts with tights underneath look. So, I don't consider that a solution for mountain biking under 50 degrees.
Pants often are not flexible enough, have too wide of legs or are made of the wrong material. The Handup A.T. pants has answers for all of these concerns.
Features
The Handup A.T. pants are made of a super stretchy Poly/elastane fabric. While not waterproof these pants are not clammy, horrible cotton. The pants are inspired by the skinny jeans that many of us wore growing up riding, but the stretchy fabric combined with slim cut means that they are ridiculously comfortable. They really feel as good as wearing spandex while being one thousand times less dorky.
Handup didn't stop with flexible fabric and great cut though. They've also added other riding focused features. My favorite? Zippered pockets. Why don't all riding pants and shorts have zippered pockets? I often keep my phone or a car key in my pockets and I never cease to be paranoid about them falling out. Deep zippered pockets fix this problem once and for all. The pockets are deep enough to fit my large smartphone without issue.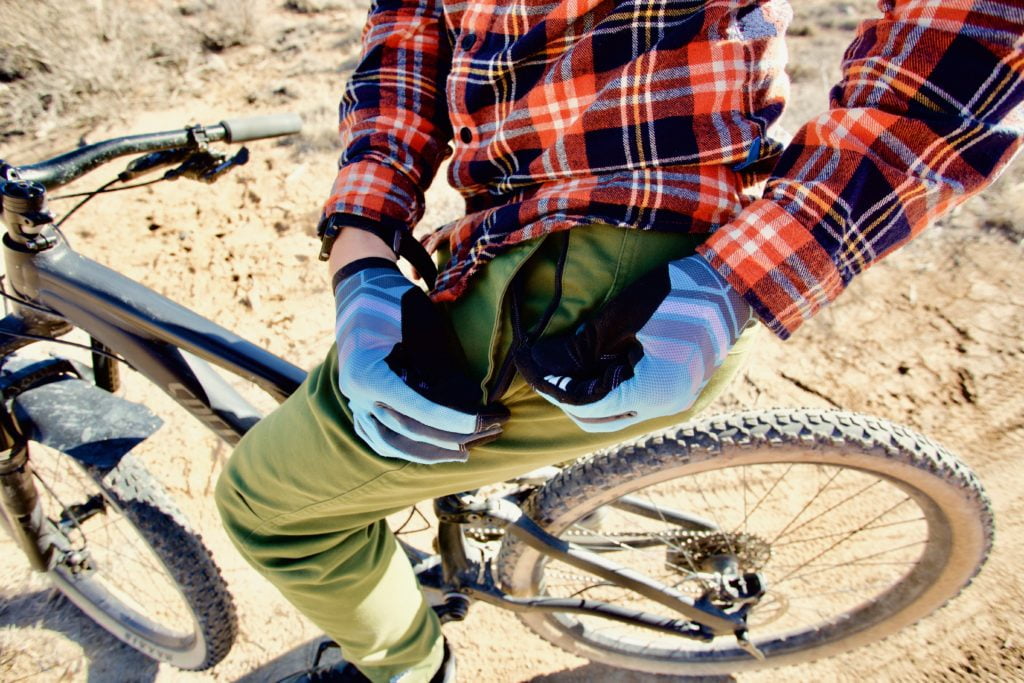 Other great features include a drawstring that allows the pants to continue to fit well without a belt. There is a reflective HANDUP logo for an added touch of night-ride safety.
Other than that logo the pants are extremely understated in their styling and don't look like "bike wear." They look equally at home on the trail or hanging out afterwards. I've found that I wear these pants pretty much whenever they are clean, whether I'm riding or not!
Riding
Riding in the Handup A.T. pants is a pleasure. They fit super well. Don't catch on my saddle and the tapered ankles never give me a concern about getting tangled up in my chainring. The flexibility of the pants means that I can move around on the bike just as comfortably as when riding in shorts.
The pants do a good job of staying relatively dry when riding on sloppy days yet they stay very breathable in warmer temperatures. I've found that in extreme cold (below freezing) wearing a base layer underneath provides an extremely comfortable ride.
The Handup A.T. pants retail for $48, which by my estimation is pretty much a steal of a deal. They are currently available in two colors, Olive Green and Black. I'll definitely be picking up multiple pairs of my new favorite pants.P
Pros:
Great fit and cut
Looks great on and off the bike
Affordable
Zippered pockets and thoughtful design
Super stretchy
Cons:
Not waterproof or DWR coated