If you are a diehard flat pedal user like me, you have may have seen Pedaling Innovations Catalyst pedals. Even if you didn't know what they were you would have said, "Wow, those are big pedals." Pedaling Innovations now has a new version of their distinctive pedals, the Catalyst Evo. We'll take a look at these new pedals today and look at what Pedaling Innovations is all about.
The concept behind Pedaling Innovations pedals is more than just making a larger target for your foot to hit. The Catalyst pedals feature an elongated design that supports both ends of your foot. Instead of riding with the axle under the ball of your foot, you ride with the axle under your arch and a larger platform supporting your foot.
The argument is that just like a wrestler, snowboarder, or football player having your full foot planted on the ground provides you with a better platform than balancing on the balls of your feet. If you want to hear the full argument this video is worth a listen.
At $125 for the standard pedaling innovations pedal, the price of entry is not cheap. The Evo version that I am reviewing here bumps that price up to $149. For that extra $20 you get more refined IGUS bushings and rear entry pins in a slightly different layout than the base model.
Design
When I installed the Evo pedals I was coming from a pair of Crankbrothers Stamp 3 pedals. The Stamp 3 pedals are some of the larger pedals out there other than Pedaling Innovations offerings. As you can see in the photo below the Crank Brothers pedals are actually wider but a bit shorter when compared toe Evos.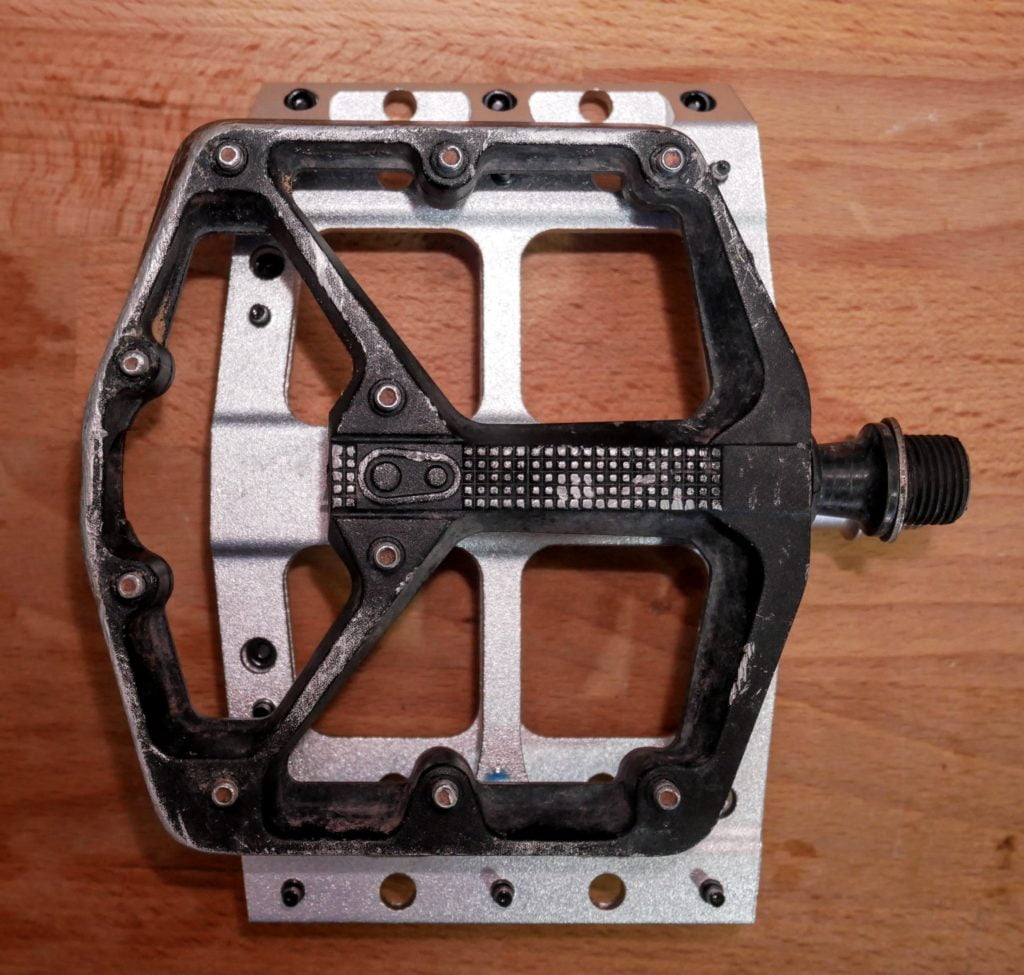 The Evo is not a super light pedal. Weighing in on our scales at 265g per pedal. This is 30 grams heaver than the 235g stamp pedal we used for comparison purposes.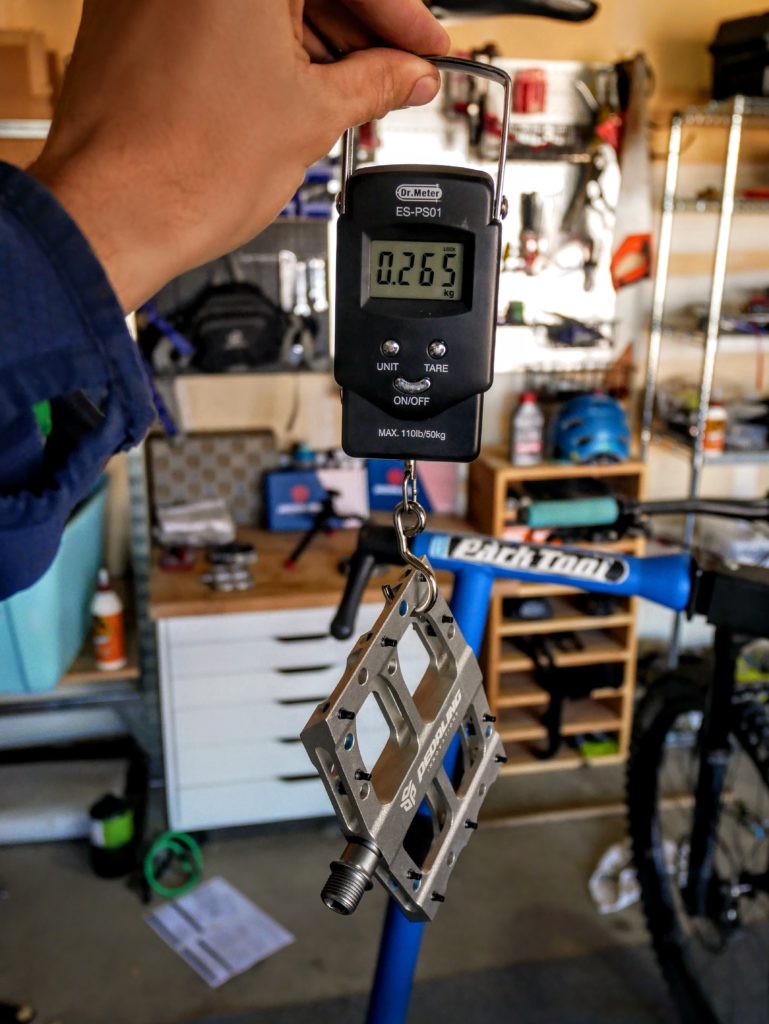 Setup
The Catalyst Evo pedals come with the pins not installed so the rider can choose the pin layout. There are 10 pins per side and as mentioned before the pins are rear entry on the Evo model. This is significantly fewer pins than the base model pedal that has 18 pins but are front-entry design. The rear entry pins are more aggressive for sure and won't get clogged up with dirt as easily. However, I think the base model pin layout may give more adjustability in grip by adding and removing pins.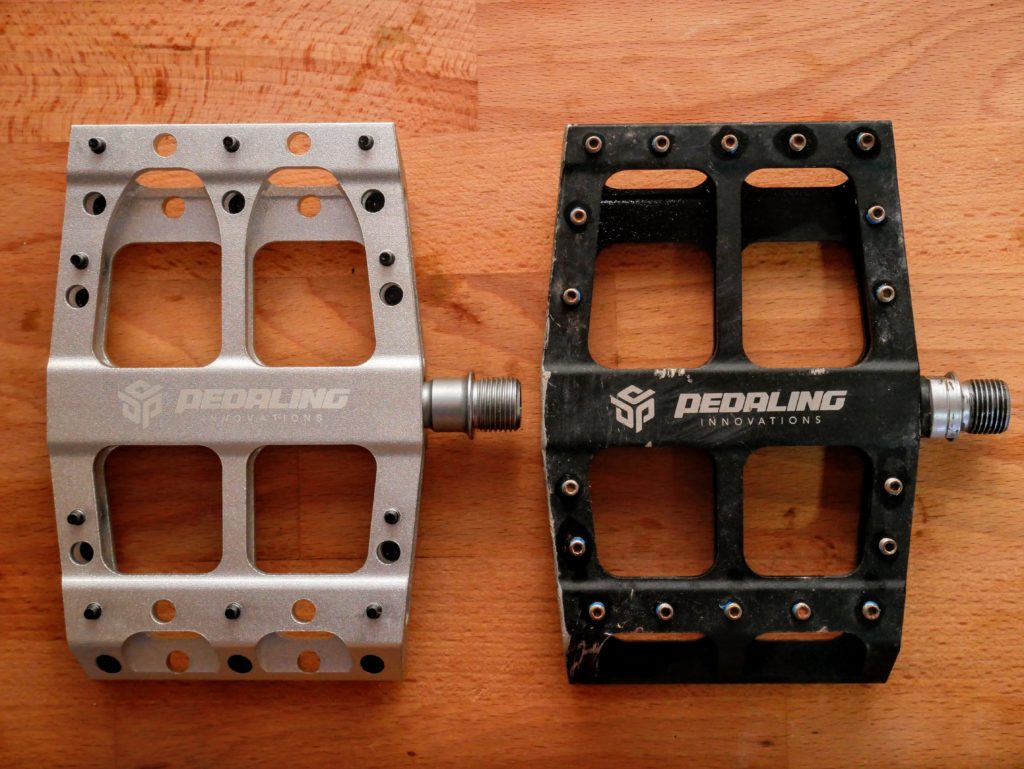 The pins do need to be installed when you receive the pedals so riders can expect to be applying lock tight to each pin and attaching them individually.
The instructions provide recommend lowering your seatpost by 2-3 cm and also possibly moving your seat forward as well. This is due to the fact that positioning your foot in the middle of your foot extends the distance your leg needs to reach from the saddle to the pedal. I found that in my case I was already riding with a pretty middle of the foot biased position so I only slightly slid my seat forward to compensate.
Riding
So what does mid-foot riding feel like. Great! In all seriousness after a few rides adjusting to a fully midfoot position I felt right a at home with the foot position. This experience will of course vary based on how far forward you biased you foot previously and how adaptable you are in your riding habits.
I will say that personally I didn't feel any huge benefits from the movement in foot position. This could be because I was already on this path of foot positioning more to the middle with my previous pedals or it could also be that some people will just feel more benefits than others.
The more subtle benefits that I felt included feeling a bit more balanced on my pedals with less ankle fatigue. I also found that mechanically the pins did a very good job of retaining my feet on my pedals. I'm a big believer in riding your bike and turning your bike through your feet and the Catalyst Evo pedals definitely do a good job of facilitating that.
My only complaint while riding these pedals was that they are bit narrower than some other pedals. I found that with my large feet (Size 12 US) I would sometimes position my feet outside of the inner most pins. This could lead to a bit less stable feeling until I re-positioned my feet.
Conclusion
So, are they worth the $149.00 price tag? For most riders, probably not. If you like the concept of mid-foot riding, the cheaper regular model Catalyst pedal is probably a better bet. The standard bearings will last for a long long time and you can get service kits for them if needed. If you don't even want to lay out that much money you could even experiment with another large composite-based pedal on the market like the Crank Brother Stamp 1 that can be obtained for under $50.
That being said, for some the Pedaling Innovations benefits are more pronounced for some riders. For example my wife had trouble with knee pain while riding. Switching to the Catalyst pedals solved this problem for her and was totally worth the money. If you have a specific problem you're trying solve or technique you're trying to improve the Catalyst and Catalyst Evo pedals are worth a look.
Pedaling Innovations provided the pedals for this review.