Contact points on a mountain bike are highly important and also highly individual. For this review, I'll be sharing my experiences with the PNW Loam Grips and trying to offer some comparisons to other common grips so that you can gauge for yourself whether the loam grips might be right for you.
Construction
The PNW Loam grips are a single clamp lock on grip with an integrated bar end. This configuration makes installation just about as easy as possible. Simply slide the grip on and tighten a single hex fitting. The grips themselves are constructed from PNW's "Happy Camper Compound." PNW says that this compound strikes the right balance between being too soft and having premature wear or too hard and creating a harsh ride.
The grips are a finned type design, however, the fins are not uniform like many BMX grips that we grew up on. Thin strips run horizontally across the grip's inner surface for a supple feel where your palm contacts the grip. The thicker mountain pattern on the outside is designed to prevent premature wear and absorb more vibration. The thin fins extend farther on the bottom for a nicer finger feel and grip while the larger more robust fins are target specifically where the most impact is with the hand.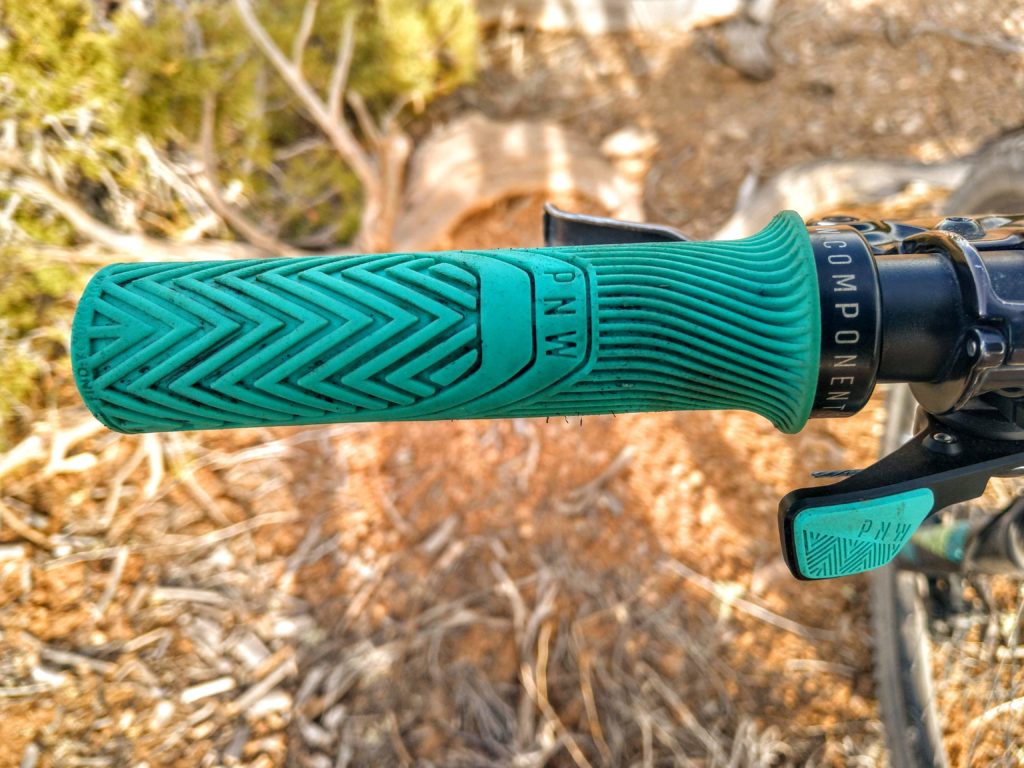 The Happy Camper Compound is available in 9 different colors so you'll probably find a look that fits your bike. You can also match the colors with the Loam Dropper Post Lever and Loam Dropper Post.
Ride Experience
I've tried a number of grips over the years and up to this point, my go-to grip was the ESI Chunky. The chunky grips provided great shock absorption, were lightweight, and were available in a variety of colors. Other grips I had tried from Kona, Ergon and Specialized had all been too harsh for my needs. The ESI grips however greatly reduced my hand strain.
The Loam grips from PNW are the first grips that I have used that come pretty close to the damping provided by ESI foam grips. The combination of plush rubber and finned design meant that my hands did not get sore when riding our very rough Western Colorado trails.
The Loam grips also did well in the grip department. My hands felt very "planted" on the bars and I did not feel like my hands slipped or needed repositioning even when they got wet with sweat. Because of the locking grip design I never had any issues with the grips themselves rotating. This was an issue with ESI grips as they reached the end of life or got really wet.
Durability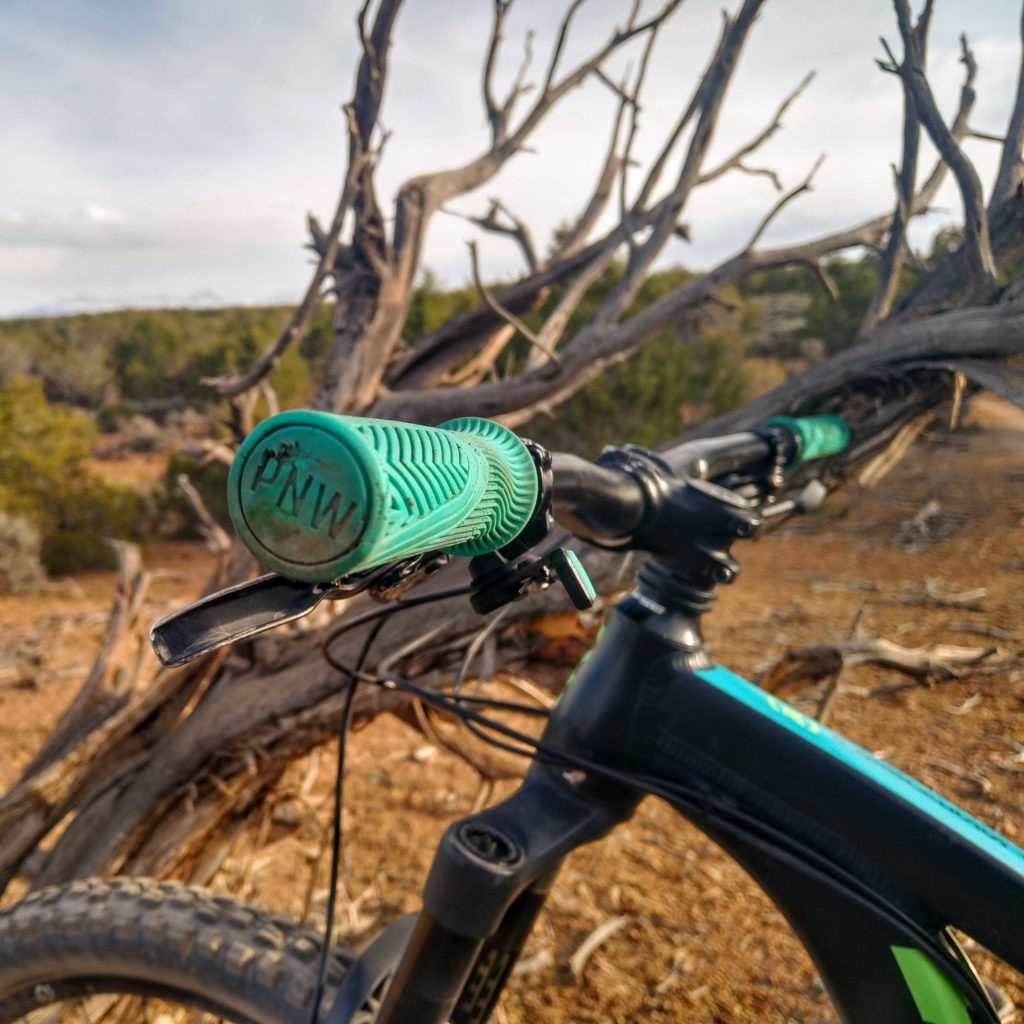 In terms of durability, the PNW Loam grips seem to fare better than ESI foam grips but perhaps slightly worse than some of the harder rubber grips I have tried. After several months of use, I did find a few nicks in the material. The double edge sword of having integration bar ends is that those bar ends take a beating and are not independently replaceable. On the flip side, you will never face risking a core sample of your body because your bar end plug fell out somewhere and is hopefully lost.
Value & Conclusion
At $19 the PNW Loam Grips are definitely still on the lower end of the price scale of lock-on grips and are even competitive with foam grips such as the ESI Chunky at around $18. At this price, even if they are a little less hard-wearing than more expensive grips the comfort to durability to cost balance is just about perfect for me. I'm getting more time out of these grips than I ever did with my ESI grips and my hands don't hurt. So, it's a win, win in my book. If you're looking for a new grip to try the PNW Loam grips are an experiment that is easy on the wallet.
Pros:
Great Feel
Lock on attachment
Affordible
Lots of colors