Finding a review of a bike from a given brand is usually pretty easy. However finding out about the buying experience from a brand can be a bit more of a challenge. Often bikes are sent to reviewers through marketing channels and they don't need to go through the buying process. We during this bike shortage we went "secret shopping" for a new bike from a relative newcomer to the U.S. online market: bikesonline.com.
While bikesonline.com has it's roots as an Australian consumer-direct retailer, since 2019 they have been making a push into the North American market. They are the exclusive source of Polygon bikes in the United States. Polygon is one of only a few bike brands that own their own manufacturing facilities and thus don't farm out the production of their bikes to others.
Just like YT, Canyon and Fezzari, bikesonline.com makes Polygon a consumer-direct competitor in the United States. You can check out their full history here: Bikes Online History.
The Ordering Experience
Even having a bike in stock at this point is a mark in the pro column for most retailers these days. For this purchase, I was shopping for a bike for my son. We needed a 27.5″ full suspension bike in size small. Because Polygon owns the factory for its bikes they've gone to extra lengths to keep bikes in stock during these times of supply chain issues. We were able to find a Polygon Vander T7 in stock, which is a bike that Polygon has specifically fast-tracked for pandemic production.
This isn't a bike review article, that will be separate. But when shopping there were a few things that made the process more pleasant. First off, the bikesonline.com site was organized logically to try to find the type of bike I was looking for: Full Suspension, 27.5 wheels etc. They even had a sorting mechanism that bubbles up bikes that are actually in stock. There's nothing more frustrating than hunting through 20 or 30 different listings for bikes just to see them all out of stock.
I had never ordered from bikes online before and had never ridden a Polygon so it did feel like a bit of a risk. However, bikeonline.com has a 14-day return policy that includes return shipping and pickup. They spell out exactly how this works on their site. This set my mind at ease that if I pulled the bike out of the box and it was not at all what I hoped for we could box it back up and send it back.
Shipping
Bikesonline.com provided regular updates on the bike be prepped for shipping and then actually shipping out via FedEx. There was one snafu initially where FedEx had an issue with the mailing label not being scannable (no fault of bikesonline.com). When I contacted bikesonline.com about this issue they were quick to investigate and ensure that there was a resolution from FedEx.
It took 8 days from time of ordering to the bike arriving on my doorstep. I was very pleased the shipping process overall.
Unboxing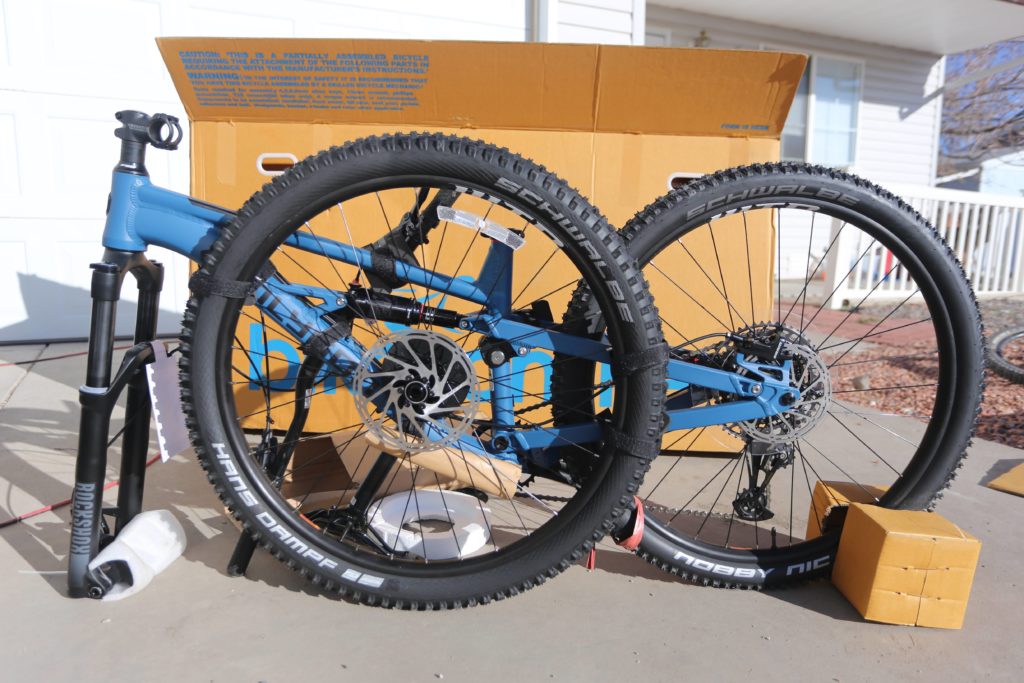 The bike came in a standard bike box with really only the front wheel, seatpost and handlebars not attached. I did appreciate that a minimal amount of cardboard was used inside the box. Everything arrived in good condition and was secured mainly with velcro straps and foam bumpers.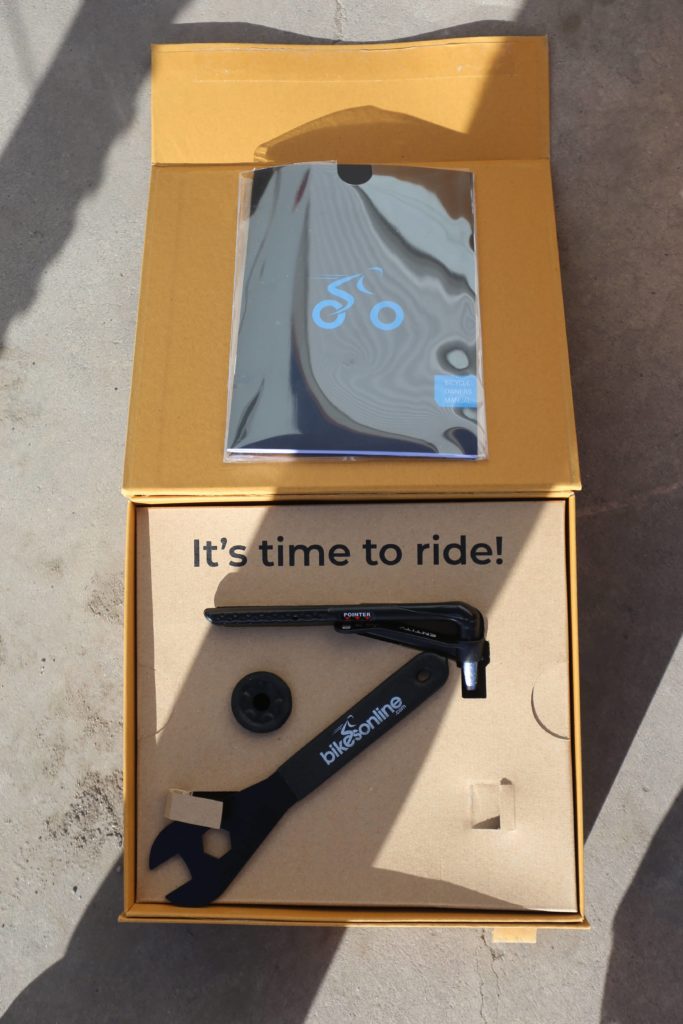 In addition to the bike itself. The box also included a separate box of accessories and manuals. This box also included the tools needed to assemble the bike. A very nice touch. The tools included a pedal wrench, a simple torque wrench, and a set of bits. I actually used these tools during assembly just to see if they would hold up and they did just fine. They may not be the highest quality but they are a step above what many, many people have in their garage.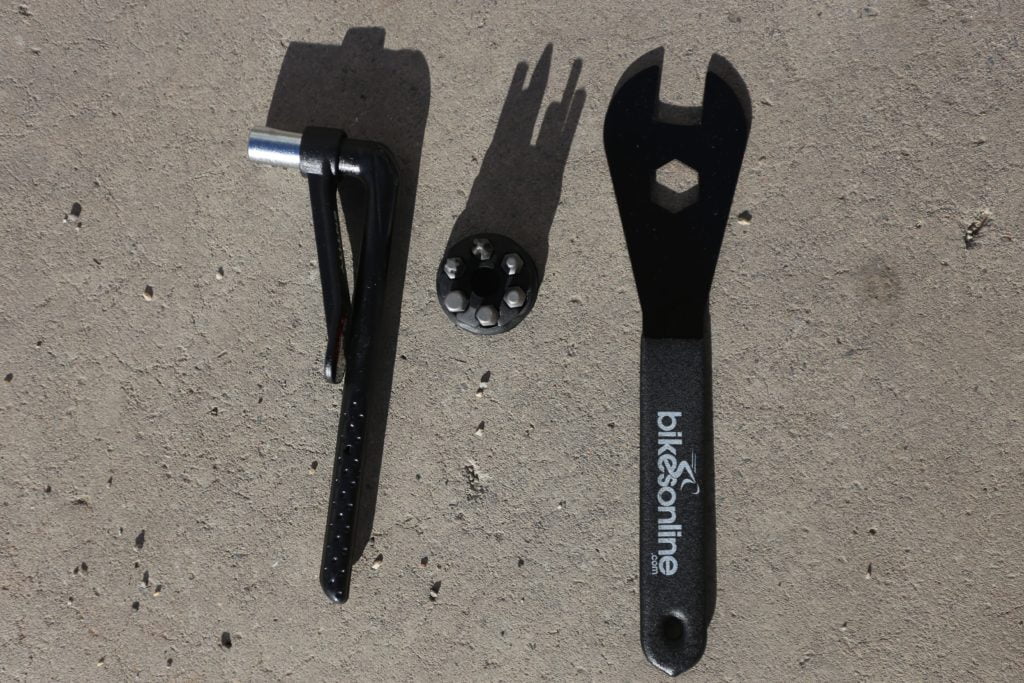 Assembly
After unboxing the bike, assembly was really straightforward. The supplied tools handled all the needed steps. The box of course came with the reflectors that are required by law and a couple of niceties like a bell and demo pedals.
The shifting on the SX eagle drivetrain was spot on out of the box. The front brake caliper only needed a very minor alignment. It would have been nice to see a shock pump included as I suspect that this is many people's first full-suspension bike. However, I definitely haven't ever gotten a shock pump from a bike shop with a bike purchase either. Setting pressure in the shocks and tires were the only tasks that required external tools.
Conclusion
Buying the Polygon T7 from bikesonline.com was a really great experience. The shipping was fast. The communication was good and the bike arrived ready to ride. Keep an eye out for a review / bike check coming soon!