Even before the pandemic mountain biking has often taken me on solo trips far into uninhabited areas. There is an inherent amount of risk with this type of travel and the Garmin inReach SE+ has become part of my risk management strategy. I've found over time though that it is more than just an SOS button.
The Garmin inReach SE+ is a GPS / Satellite Communicator. This is a very different device than a hand-held GPS or a cell phone. The inReach uses the global Iridium® satellite network to allow users to send and receive messages from almost anywhere in the world. The global coverage is achieved with 66 low earth orbiting, cross-linked satellites that allow for two way communication.
Device Physical Features
The inReach SE+ is physically about the same size as a standard hand held GPS measuring 2.7″ x 6.5″ x 1.5″. Compared to a cell phone or most cameras this piece of electronics feels like a tank. It has a rugged, rubberized exterior. It's also water-rated to IPX7.
The front has a dpad and 6 function buttons. There's no touch screen here. Instead there is a 200 x 265 TFT display. The entire device is super robust and designed for rugged usage. The choice of buttons means that this device can be used with gloves or when wet. I've you've ever tried to use a cell phone during a rain storm you'll know it's an exercise in futility.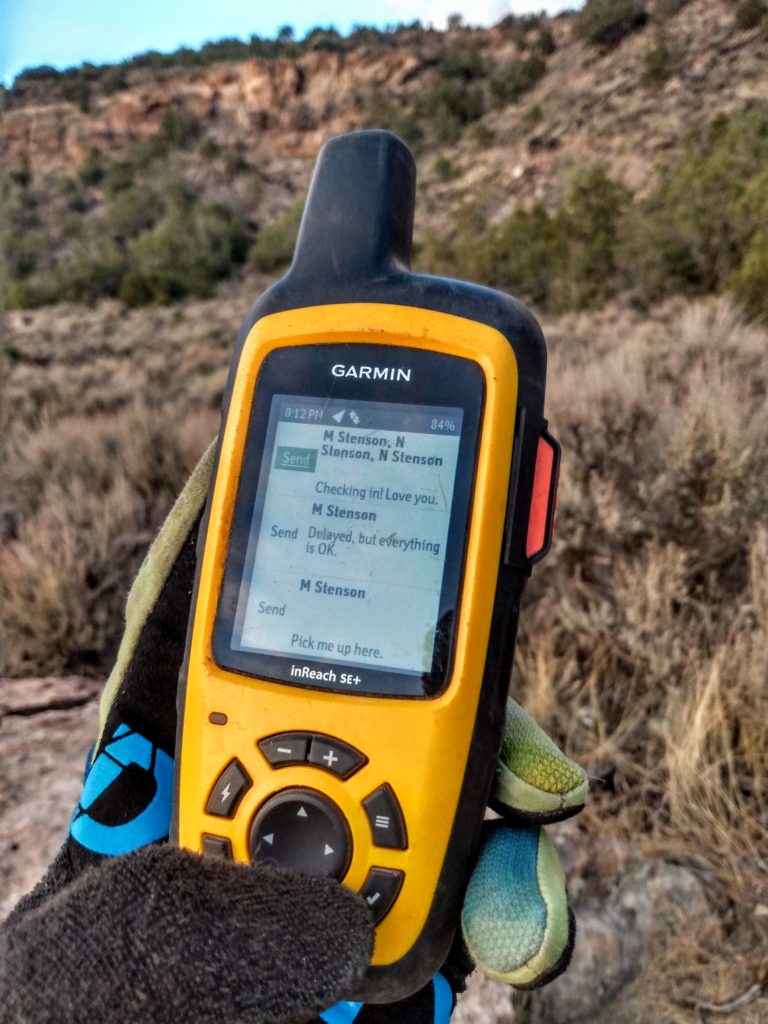 The software interface while not a touch screen is easy to understand and quick to navigate. It's also very snappy and responsive. In general you won't find yourself waiting for screens to load on this device.
The side of the device features the cover for the SOS button. This SOS button is what a lot of people buy the inReach device for. When pressed the SOS button initiates a conversation/action with a search and rescue dispatch that will work to get you help in a life-threatening situation.
Battery Life
The battery is a rechargeable internal lithium-ion. In most cases, you shouldn't need to worry about recharging during a trip. The stated battery stats by Garmin have been accurate.
Up to 100 hours at 10-minute tracking mode (default)
Up to 75 hours at 10-minute tracking with 1-second logging
Up to 30 days at the 30-minute interval power save mode
Up to 3 years when powered off
This is something that I think Garmin has really nailed on many of their devices and the inReach SE+ is no exception. Not having to think about battery life for a survival device is really awesome. Wilderness rescue teams often say that the last thing they hear from a person needing help is "my battery is dying on my cell phone." Garmin has been building rugged electronic devices for commercial, military and private applications for a long time, and I really think they understand what serious adventurers need.
Messaging
The inReach SE+ software is operated by the button-based user interface. You can track your progress, set waypoints, send messages, get the forecast, and more all using the built-in controls.
The device also features bluetooth to allow you to connect to a smartphone to control the device from there. The idea is that you then have a higher resolution touch screen that people are more used to interacting with and typing on.
In my use I almost never pair the inReach with my phone. Typing on the device is done via the dpad and Garmin has included on device intelligent word completion. This makes typing short messages rather fast and then my cell phone battery can be reserved for maps and taking pictures.
Messages can be sent to phone numbers and email addresses and each message can have multiple recipients. There are also 3 "preset messages". These messages are preset during device configuration and can be sent for free on any of the inReach plans. I use these extensively for letting my wife know that I'm ok or that I've made it back to my vehicle after an adventure. Every message will also include your location and link to an online map of your location. This is great if you need to have someone pick you up at a remote location.
All of these messages are sent via satellite, not cell phone towers. This means that they will send almost anywhere outdoors. The device does need a clear view of the sky to send and receive messages. Areas where you may run into trouble are very narrow canyons or areas of dense tree coverage. In actuality, I've never had an issue sending a message. The device usually takes 30 seconds to 2 minutes to sync up to the satellite network and send messages.
The inReach SE+ syncs every so often with the satellite network to pull down new messages. This is a configurable setting to allow for greater battery life. You can also trigger and manual retrieval of new messages in the user interface.
In addition to standard messaging you can share your track online publicly or with select contacts. The inReach device will send waypoints at preselected time intervals, so people back home can track your progress online. This is an area that I haven't used extensively. My main use of this device is as a safety and messaging device.
Navigation
The SE+ in comparison to the Explorer®+ does not include topographic maps and they cannot be loaded later. I chose to go with the SE+ to save 50 dollars and use specialized mapping tools on my cell phone.
As far as navigation on the device goes, you'll get a basic breadcrumb and waypoint functionality along with basic latitude, longitude, altitude, and heading displays. The compass is a GPS compass so it will only work while moving. This is another reason some people might want to upgrade to the Explore+ as it includes a true compass. You can preload a track onto the device but you won't have any surrounding topography or map lines for reference.
Weather
For longer expeditions, the inReach SE+ can retrieve NOAA weather forecast for your current location or waypoint. This is most helpful for things like bikepacking trips or if you are camping in a remote location. I've used the forecasts on a few occasions when the weather has been iffy in the mountains and cell signal is far away.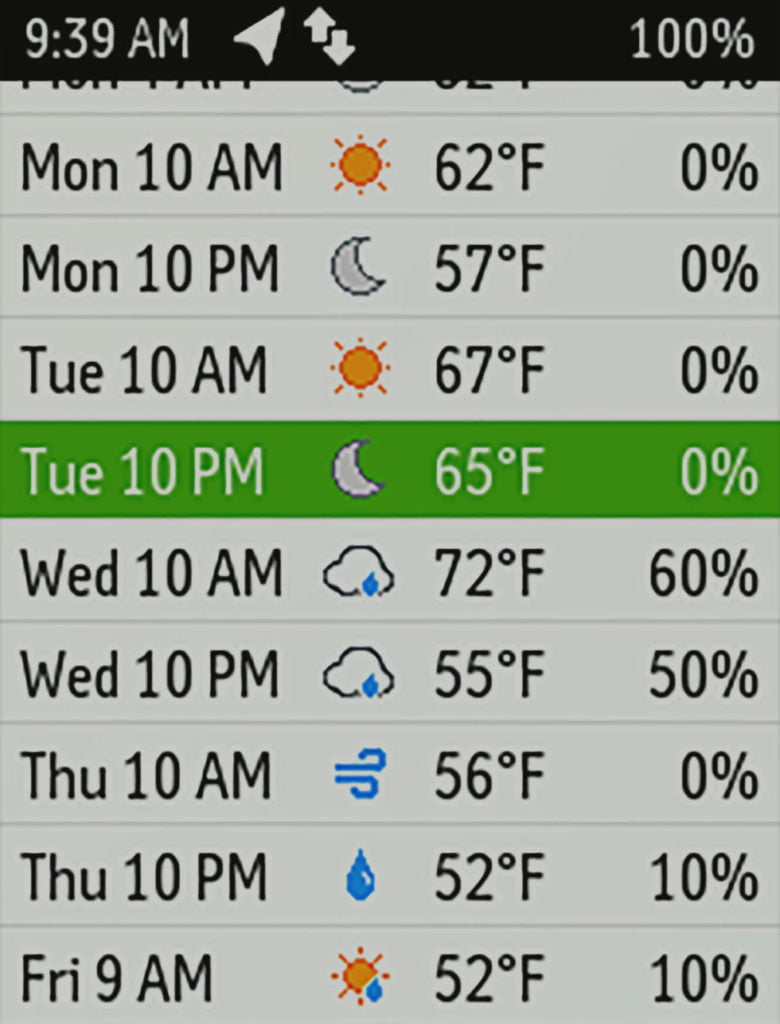 Subscription
The Garmin inReach Explore+ retails for $399, which is a fair amount of money upfront. However, the device will be pretty useless without being attached to the Garmin inReach subscription service. This is basically like a cell phone plan but for satellites. Here is a breakdown of the current pricing:
| | Safety | Recreation | Expedition |
| --- | --- | --- | --- |
| SOS | Unlimited | Unlimited | Unlimited |
| Text Messages | 10 | 40 | Unlimited |
| Preset Messages | Unlimited | Unlimited | Unlimited |
| Tracking Intervals | 10 min+ | 10 min+ | 2 min+ |
| Send/Track Points | $0.10 ea | Unlimited | Unlimited |
| Location Requests | $0.10 ea | Unlimited | Unlimited |
| Basic Weather | 1 text message ea | 1 text message ea | Unlimited |
| Premium Weather | $1.00 ea | $1.00 ea | $1.00 ea |
| Premium Marine Weather | $1.00 ea | $1.00 ea | $1.00 ea |
| Monthly Charges (annual plan) | $11.95/mo | $24.95/mo | $49.95/mo |
| Overage Charge for Messages | $0.50 | $0.50 | N/A |
You'll notice that even on the basic "Safety" plan you get unlimited preset messages and 10 text messages every month. This is the plan I use and I rarely go over my allotted amount. Most of the time I just use the preset messages to check in and let people know I'm ok. If I need to communicated details those ten messages usually do the trick
The Garmin inReach SE+ has proven itself as a very robust and reliable device. If your adventures regularly take you to unpopulated areas I would recommend getting one if it fits in your budget. Even if you aren't riding solo, being able to assist an injured partner and get them help without leaving them can be invaluable in an emergency. If you are willing to stretch your budget slightly, the Explore+ adds some really great navigation features.