Dedicated winter riding usually means night riding. This winter I tested out the Light & Motion Taz 1200. Light & Motion has a few unique selling points that attracted me to testing out this light. First, Light & Motion is a US based company that actually assembles their lights in the US. They also stand behind them with a 2 year warranty.
Design
The Taz 1200 is a self-contained, usb rechargeable light. The USB charging port is on the bottom of the light and features a usb mini charging port with a gasketed cover. The port is easy to expose and get plugged in. The light includes two different mounts, a rubber strap for attaching to handlebars and a gopro mount.
It features a waterproof design certified to a IP67 Rating. Which means it is tested to be fully waterproof in 1 meter of water for 30 minutes. The body of the light is fully metal and is FL-1 certified on ANSI-NEMA testing scale for impact resistance. The light is heavy. Ringing in at 219 grams.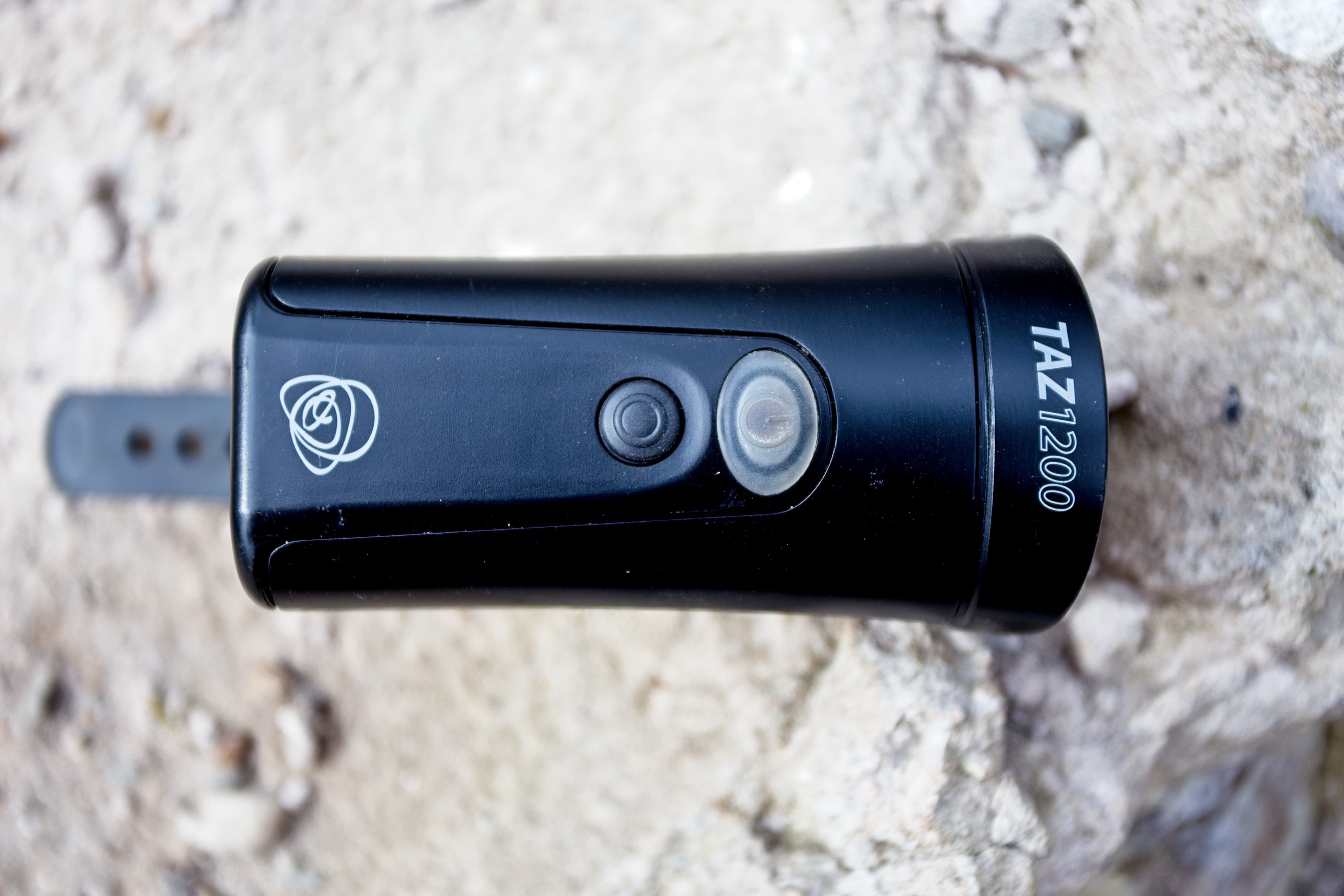 The Taz 1200 has two buttons on the top. The first one is the main power button that also controls the mode of the 3 main LED array. The second button controls the secondary side visibility lights. These side lights are supposed to make you more visible when riding in traffic and on the road. For mountain biking, except if you are riding to the trail, these are pretty pointless.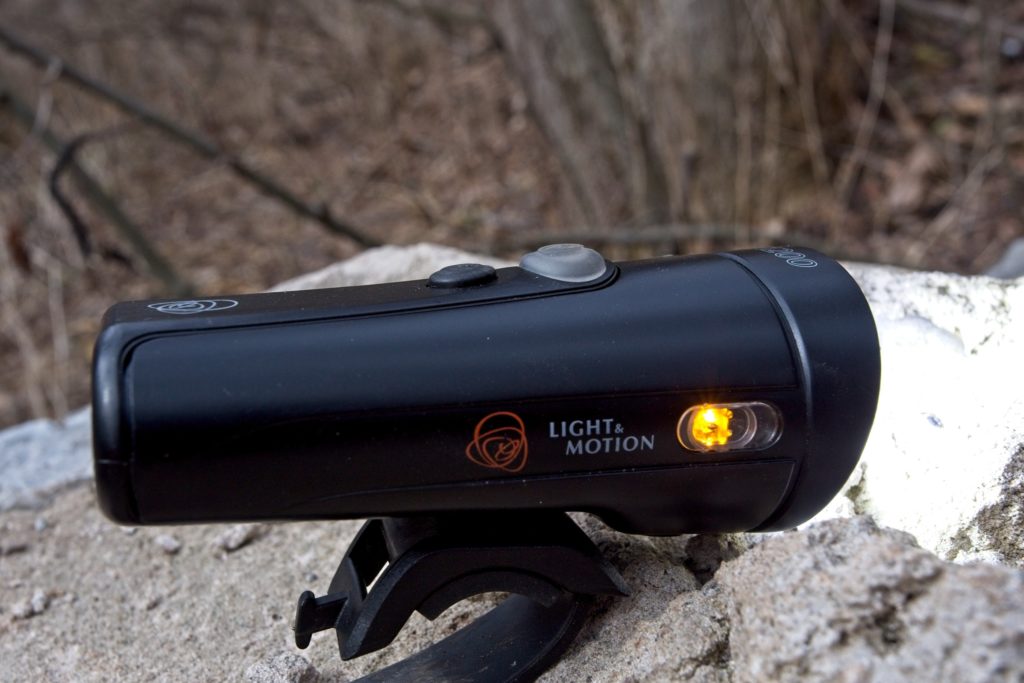 In Use
My hope had been to use this as a helmet-mounted light. The GoPro mount seemed the like the perfect combination for use with my Bell Super 2r breakaway GoPro mount. However in testing this, though it does mount well and hold the light securely, the light is a bit on the heavy side for head mounted use. I definitely noticed the weight up there and needed to cinch my helmet down more than usual to keep it from shifting.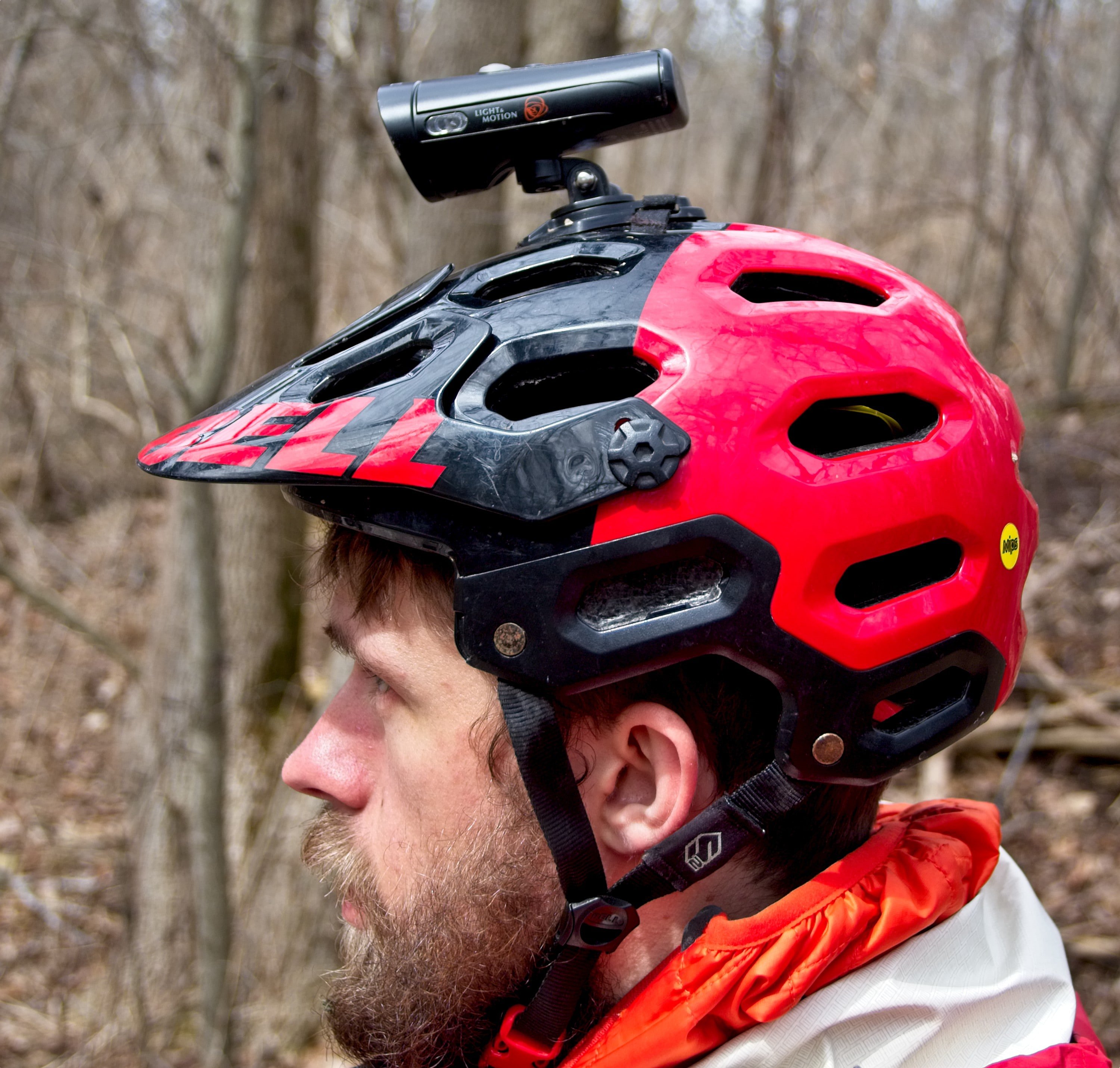 This light is much more at home on the handlebars of my bike. The rubber strap works well. Though I think the looping design might be slightly more fiddly than some straps I've used. To install you have to first thread the strap up through a loop before pulling it back down to secure it.  Once installed though the light does hold fast and doesn't shift over rough terrain. The strap does seem to be high quality and looks like it will last a good long while.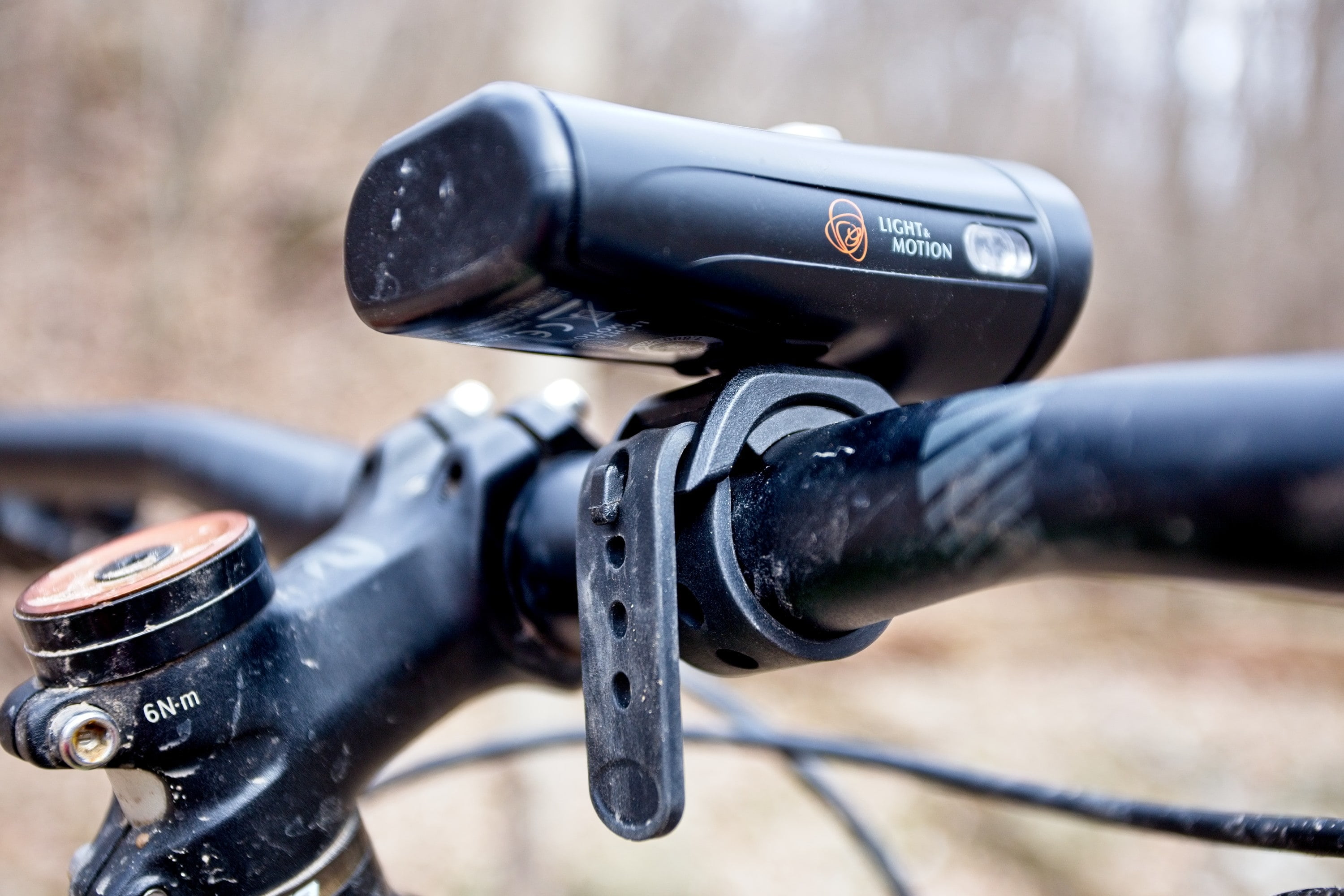 All this being said, the thing that really matters is how well this light lights up the trail and for how long it can keep lighting up that trail. Lumens are the definite measure of brightness, but they don't always tell the whole story. The way a light spreads the light out in front of you can have a large effect on how effective it is. The highest mode on the Taz 1200 is 1200 lumens, with the next step down being 600 lumens. For comparison purposes I shot fully manual test shots with all exposure settings locked out on the Taz 1200 at 600 lumens and my Lezyne Macro Drive 800 at 800 lumens. While this isn't a direct lumens comparison I think it gives a good idea of what the Taz is doing in comparison with another light. Keep in mind the Lezyne light is half the price.
To my eye the Taz and the Lezyne lights are pretty evenly matched. The Taz has a bit more pleasing color and has a little bit more of a directional beam pattern. But those differences would only be noticed really if you were running both lights side by side, as I was.
The 1200 lumen mode is significantly brighter. The edges of the trail get filled in better and there is a bit more reach as well. This brighter mode though is not without its downsides as far as battery life, which is what we'll cover next.

Run and Charge Time
So here is the real kicker with the Taz 1200. At the 600 lumen setting the Taz 1200 lasted two hours and forty-nine minutes. The Lezyne Macro Drive at 800 lumens lasted a full three hours (This is well above the manufacturer stated run time for the Lezyne). All this while the Lezyne weighs 151 grams and the Taz weighs 219 grams. This performance was slightly under Light and Motion's claimed run time of 3 hours in the 600 lumen mode. But bear in mind I was doing real world testing with variable temperatures.
At the 1200 Lumen setting you only get a claimed 1.5 hours in ideal conditions and I often wound up getting even a little less than that in variable temperatures. This means that the 1200 lumen mode is only useful as a sort of "high beam" that you only turn on every once in a while.
I get the feeling that the Taz 1200 would work better in a more mountainous area where you might be riding up a fire road at 200 lumens for the first hour or two and then spend a half hour at 800 or 1200 lumens bombing back down the mountain. In my neck of the woods (Wisconsin) I need constant lumens that will keep me from thwacking trees or going OTB in a creek on tight twisting single track. This means that anything under the 600 lumen mark just isn't enough for my riding and I was somewhat disappointed by the runtimes I got.
My final complaint with the Taz 1200 is after the ride, recharging is a lengthy affair. "Overnight" is the best way to put it. If you have Taz's recommended 2.0A USB AC Adapter the charge time is cut down to 4 hours. But this is an extra $30 accessory on top of a $120 light. My Lezyne I can plug into any old usb charger and get those same charge times.
All in all I'd have to say that I would not recommend spending the money on this Light and Motion Taz 1200. It's a fine light and does what it claims to, but there are better deals to be had (like the Lezyne).
Buy Now
Pros:
Great Build Quality
Bright
Cons:
Sub par runtime
Expensive
Heavy
Long Charge Times