Kind of like runners always searching for the perfect shoe or motorheads looking for the next engine tweak it seems like mountain bikers are constantly searching for a better way to carry their tools, food and water on the trail. The options are limitless. Lately an option from 30 years ago has come back into style: fanny packs. The Dakine Hot Laps 5L takes the basic concept of a fanny pack, or Enduro Pack, or Lumbar Bag, whatever makes you feel less embarrassed, and puts it on steroids (pardon my road racing pun). The Hot Laps 5L adds a full hydration system, cooling vents, internal storage pockets and a clever synching system.
Features
Starting from the outside, the Dakine Hot Laps 5L features a well thought out belt system. The large buckle features a single-sides cinch system and a handy elastic keeper for the slack strap. Attached to the strap is a large padded area that reaches around an average sized pair of hips. The padding along the sides and back also features engineered venting to provide additional cooling. Lumbar packs make a lot of sense in hot conditions where a full backpack would produce massive back sweat. So, this additional venting is welcome.
The pack itself features two main compartments. The one closest to your body holds the hydration bladder. Specially designed by Dakine, the 2L bladder features an internal baffle that helps it hold it's shape even when it is not full. The bladder also has a fold over opening at the top for filling and cleaning that is secured with a sliding clip.
The hose for the bladder is routed out a slit in the side of the pack. It is designed to wrap around one hip and all the way to the other where it is secured with a magnetic buckle that is the best I have ever used. It goes beyond being a simple magnet and includes a clip that holds it securely while riding yet is easy to remove with a twist.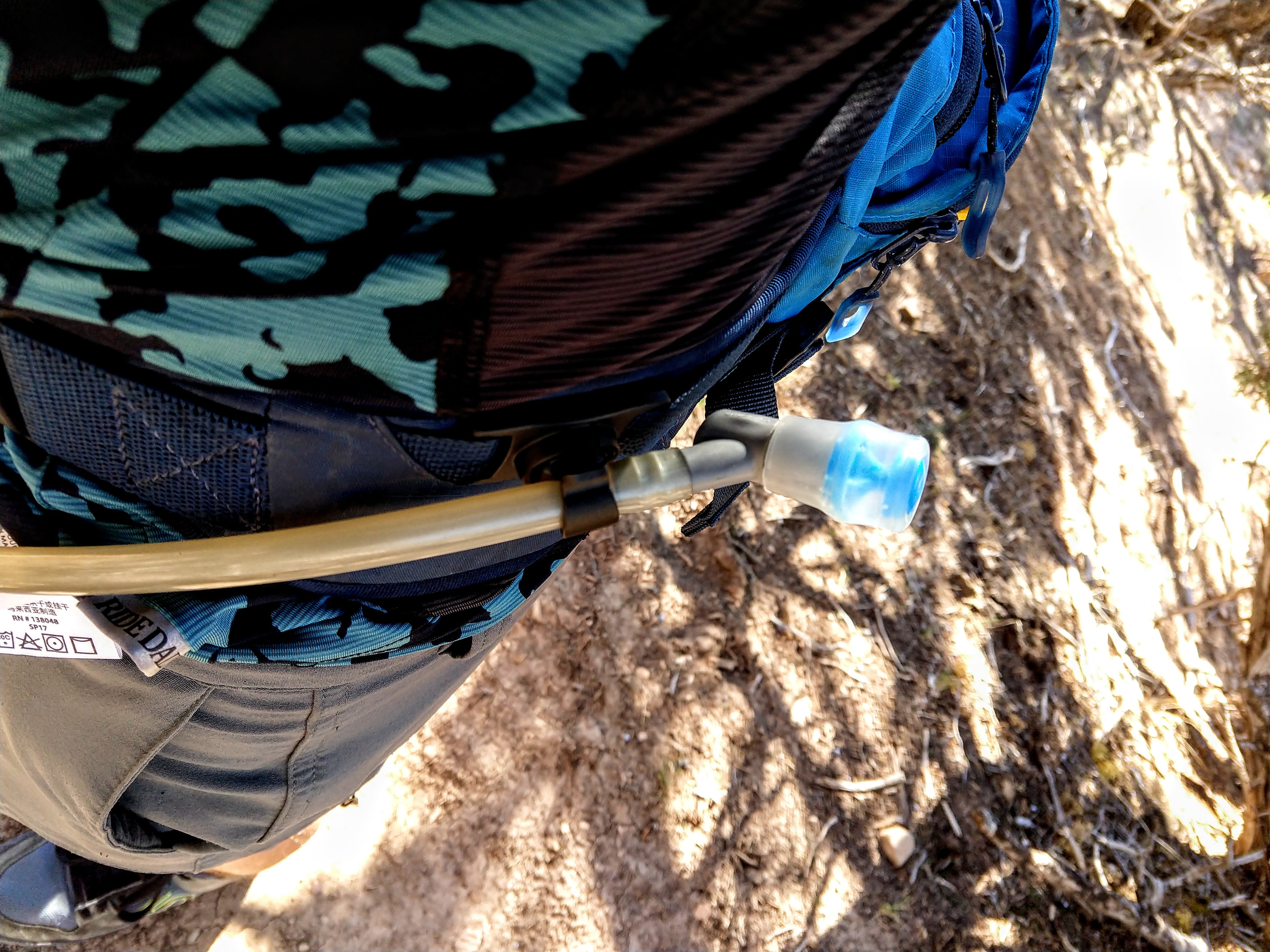 The second compartment contains organizing pockets for all the bits and bobs you bring on a ride. I have found that I am able to bring all of my standard equipment along with a couple of bars easily in this compartment. I run out of room though if I try to pack along camera gear as well. Which is when my Osprey Daylight comes back out.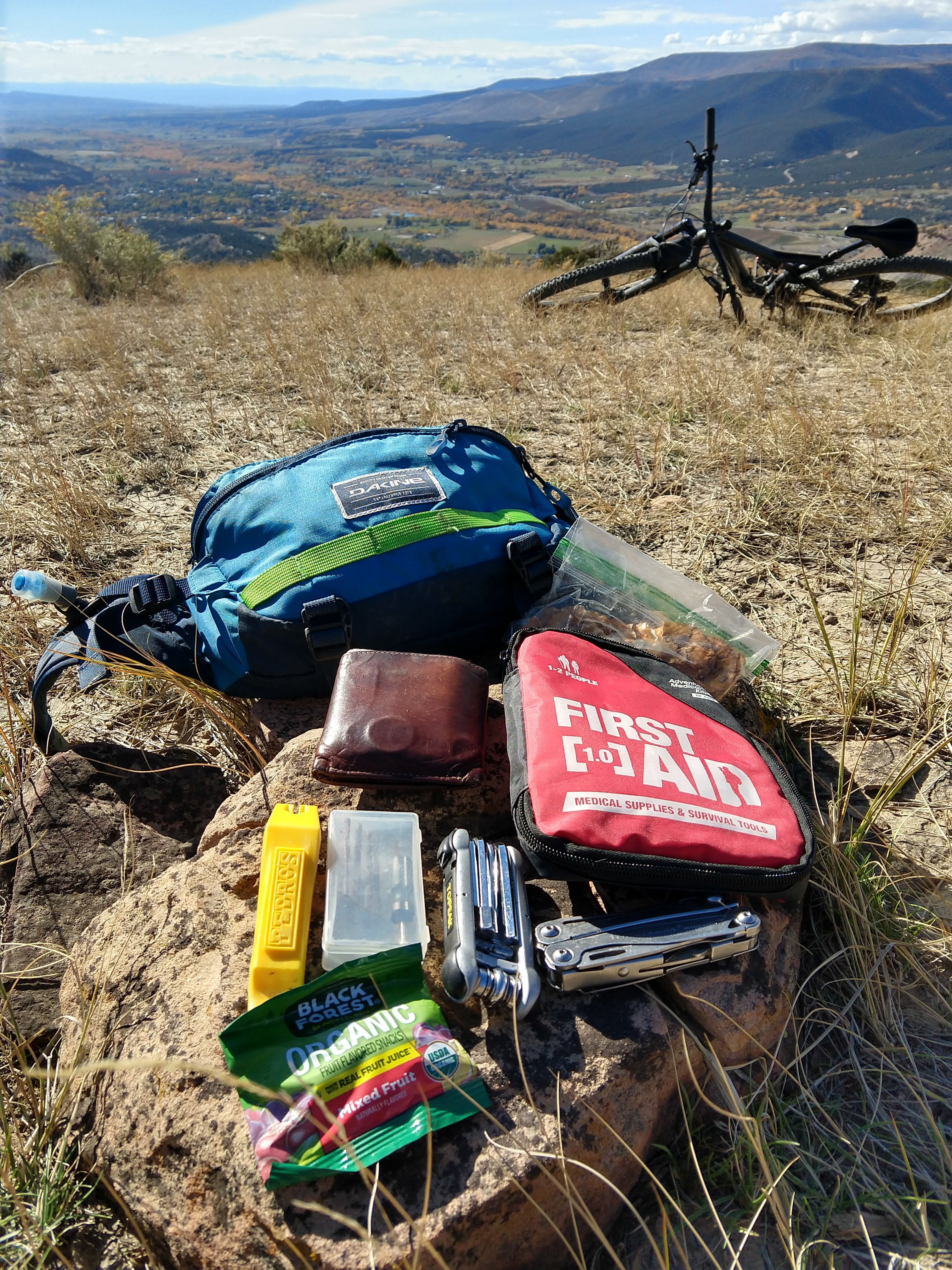 Riding
The first thing you will notice when switching from a backpack to a hip pack is just how free your shoulders and back feel. The Dakine Hot Laps 5L definitely delivers in this departments. With no straps going over my shoulders and across my chest I felt much more "free" while riding.
However, after loading up the Dakine for the first time I also realized that hip packs are much more sensitive to loading, setup and weight. If the straps are too tight they would constrict my stomach while riding. Too loose and the pack would be bouncing all over the place. In that just right amount of tension though, the Hot Laps pack is a pleasure to ride with. Don't be surprised if you have to experiment and adjust to find the right fit.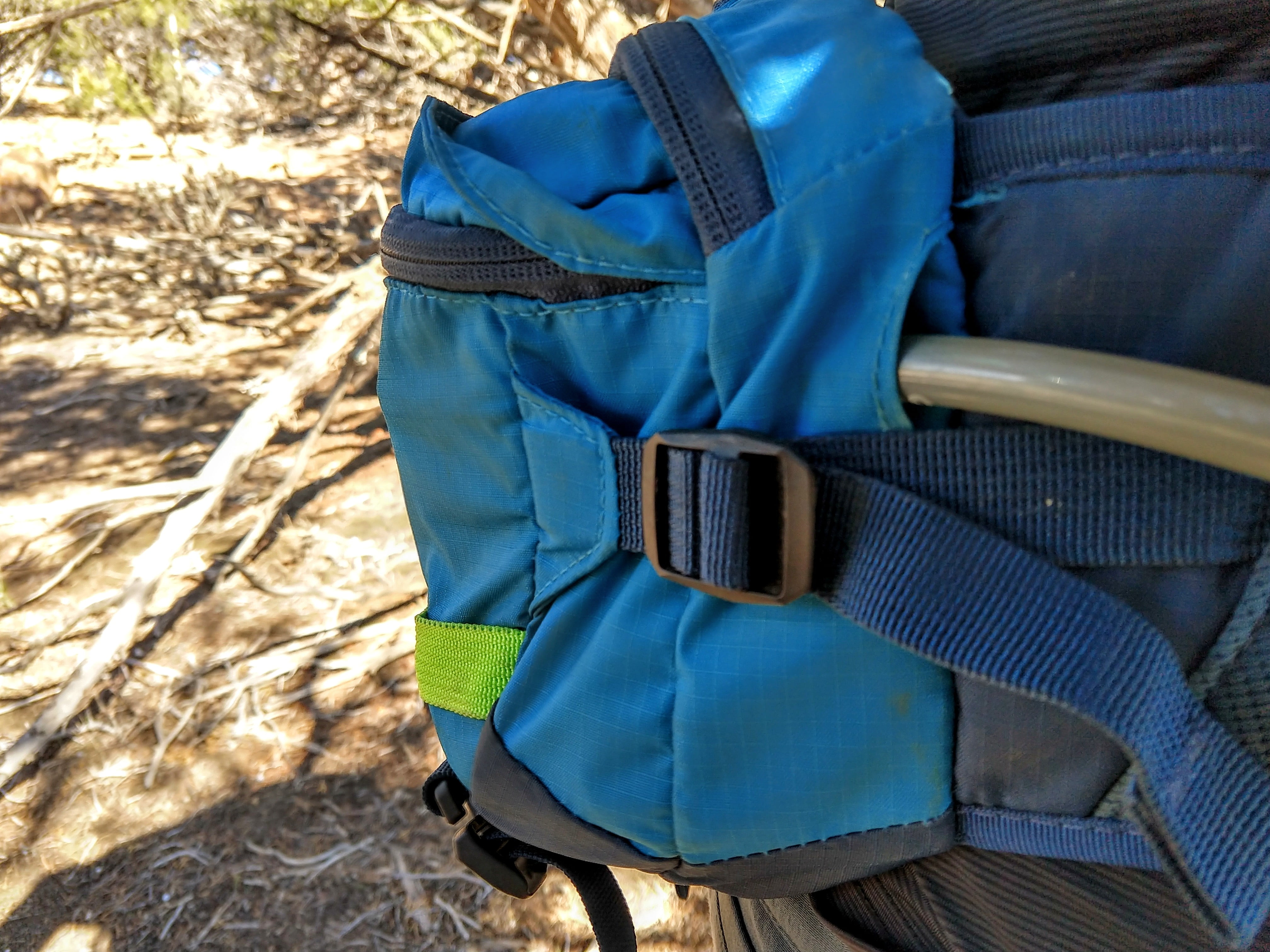 I found that if I loaded the Hot Laps 5L with a full load of water and my tools / nutrition I would get stomach pain no matter how I adjusted the pack. In my case I found that about 2/3 full on the hydration bladder is all that can be carried comfortably. On the bright side, the hydration bladder tastes good, and is a joy to use. As mentioned earlier, the magnetic latch mechanism is secure, yet easy to use. I had no trouble grabbing a drink on smoother sections of trail. My only other complaint with the bladder is that the hose doesn't have any sort of shut off, which would be nice to prevent leaks during transport.
Overall the Hot Laps 5L is a very capable fanny pack and it has found a permanent place in my lineup of go-to bags. The option of running hydration or extra storage along with the freedom a fanny pack provides has made me a convert for most rides lasting less than two and a half hours.
Buy Now
Pros:
Included hydration bladder
Ample storage
Great hydration hose retention
Free shoulders
Cons:
Can be tricky to get adjusted
Bladder is best used not all the way full
You can't bring the kitchen sink
No shut off on the hydration hose