Tires make a huge difference in the ride quality of a bike. Whether you're accelerating, braking or turning your tire choice determines much of what that action will feel like and how effective it will be. In this review, I'll be sharing my experiences with the Maxxis Ardent 29×2.4 tires.
When I purchased my 2017 Specialized StumpJumper 29er it came with the Specialized Butcher upfront and a Slaughter in the rear. To be frank, I was pretty much immediately unhappy with this combo. They didn't roll very fast. I felt like I was never able to carry as much speed as I should have been able to. They were heavy, with each tire weighing in at over 1000g. And the Slaughter in the rear did not provide good climbing traction. So, I decided to experiment with running matched Ardents on the front and rear.
The Maxxis Ardent is billed as an all-purpose trail tire. It features ramped knobs in the center of the tred to minimize rolling resistance and larger, more squared-off knobs on the side for cornering traction. It is available in an EXO casing for extra side wall protection. I actually made an aesthetic choice with the sidewalls for my tires and went with the Maxxis Skinwalls to compliment my blacked-out StumpJumper. These skinwalls did come with the EXO casing as well.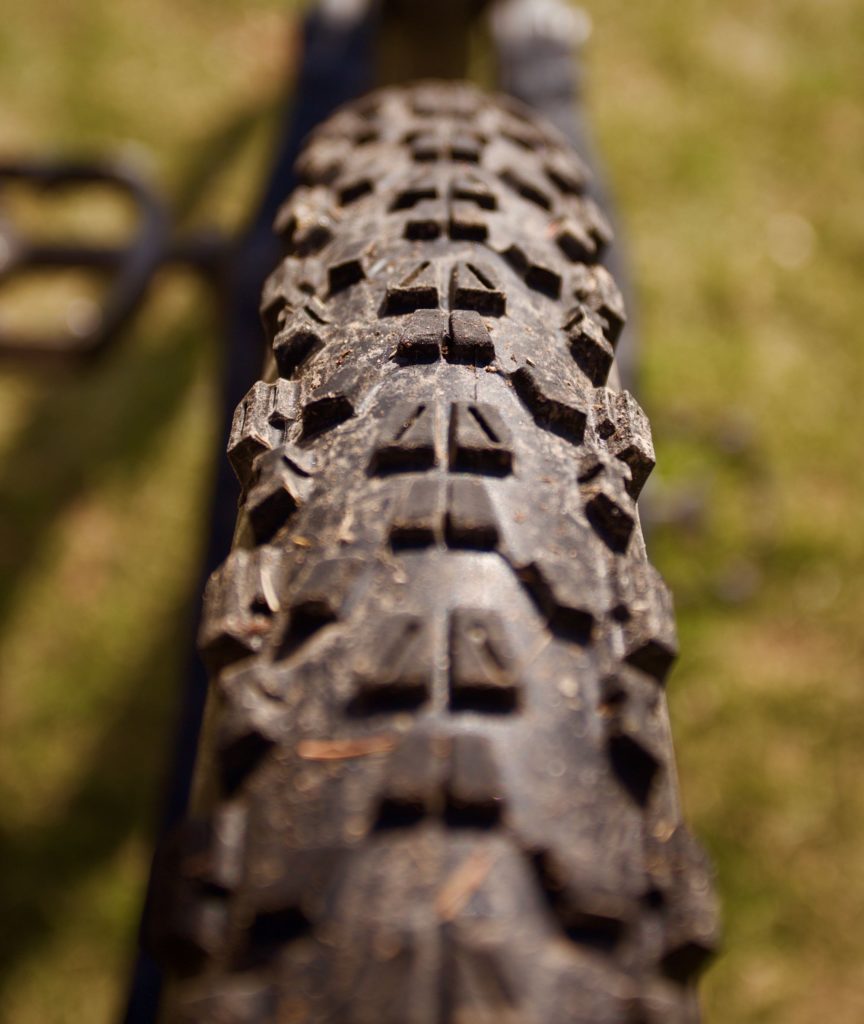 Tire Setup
I had no major issues setting up the Ardent Skinwall tires tubeless. Even though they are not technically tubeless rated they have held up fine over extended testing. I have them mounted on Roval Traverse 29, hookless alloy rims with a 29mm inner width. They've seated well on these rims and I've had no trouble with burping even when running ultra low pressures to handle snow and icy riding conditions.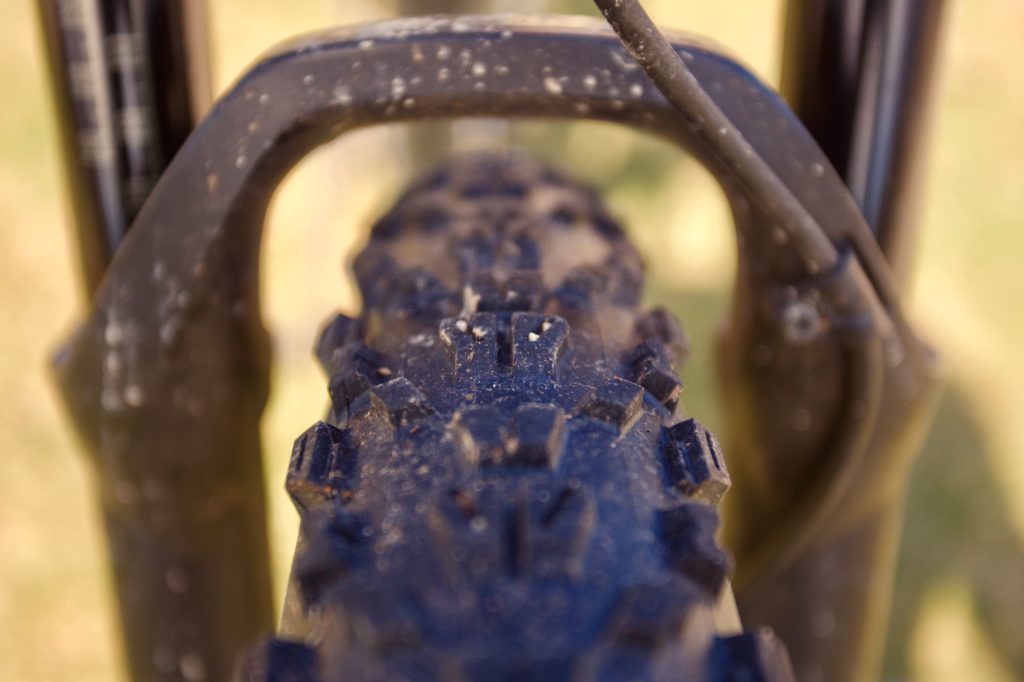 The 29mm inner rim width also gave the tires a nice shape. I'm not one to pull out calipers and measure exact widths of knobs etc, because I think feel is way more important than dimensions. But, just eyeing it up I'd say these probably come it at less than the advertised 2.4″ width.
Riding
The first thing I noticed when I got on the Maxxis Ardents was how much faster my bike felt immediately. These tires definitely roll a whole lot faster than the stock tires that came with my bike. Sections of trail that I previously found myself pedaling on I could now pump effectively to keep speed. My tires weighed in at 875g and 884g which is a bit more than advertised. Either way they feel light and not like boat anchors underneath me.
In the rear that increased speed was not met with any sacrifice in traction while climbing. The StumpJumper is a capable climbing bike while seated and I found that the Ardents gave me the expected traction that I needed to make it up punchy climbs.
Up front I would say the Ardent is an acquired taste. In a straight line these things are fast. Put it into a turn and they are a little unpredictable. They are by no means bad, and I've found no good reason to pull them off the front, but I have had times on the trails that have given me pause and made me wish for something a little bit more aggressive. If my local trails were higher speed I think would consider moving to something more aggressive like a Minion DHF.
Durability
As mentioned, I've ridden these tires in a variety of conditions, from mud, to dry hardpack, to icy and snowy conditions. They served me well on a trip to Asheville, NC and I raced them at the ~36 mile Whole Enchilada race, also in North Carolina. I've had zero punctures, zero burps, and really zero complaints. The tred has held up nicely with no torn knobs or anything concerning on that end.
Final Thoughts
If you are looking for a tire that will prioritize rolling resistance and weight while being able to handle most trail conditions, I'd give the Ardent a try. Depending on your riding style, you may find you need something different upfront, but I have found it to be a solid, dependable tire.
Buy Now
Pros:
Fast Rolling
Light
Durable
Killer looks
Cons:
Might not have enough bite as a front tire