Living in North Carolina, I have thousands of miles of mountain bike trails throughout the state and the one thing I never want to be without is water. When I first started riding, I tried taking a single water bottle, only to drink it all in less than an hour on hot summer days.
Cutting your ride short because you run out of water is never fun, and I felt it was time to get serious and invest in a hydration pack. CamelBak is a brand that has been around since 1988, and they are known for making packs specifically for mountain biking.
The CamelBak Rogue Hydration Pack is the one I went with and have used it on every ride I've been on since it arrived.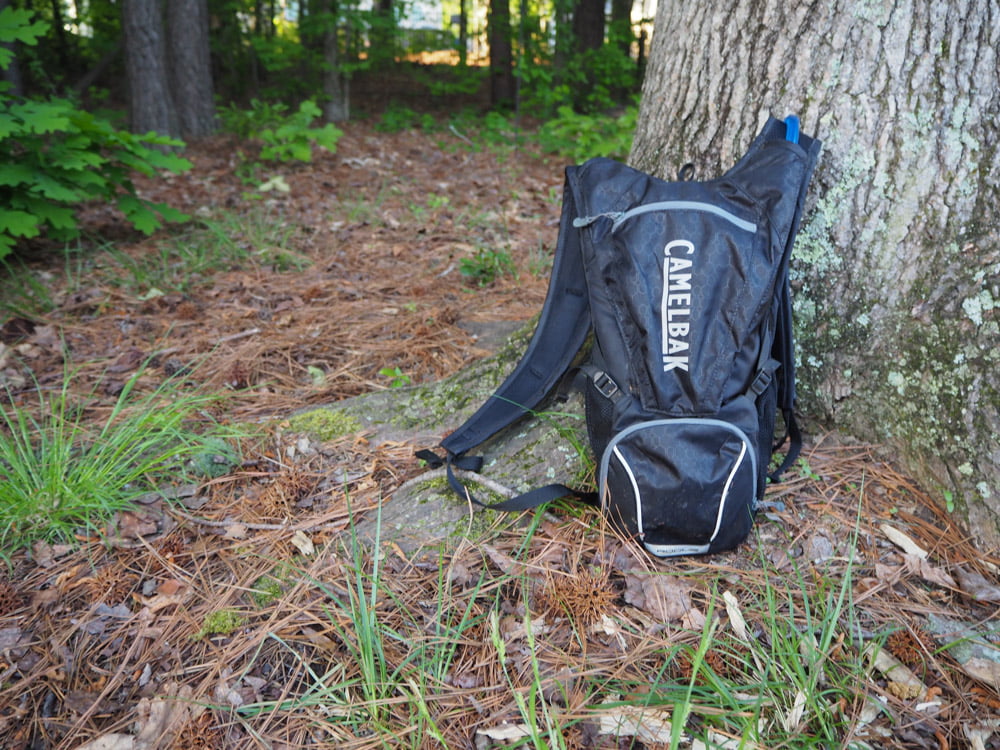 The CamelBak Rogue features an 85oz reservoir, Leak-Proof On/Off Valves, a top zippered pocket, and a bottom pocket perfect for your car keys, a multi tool, or anything else you need to carry that's small.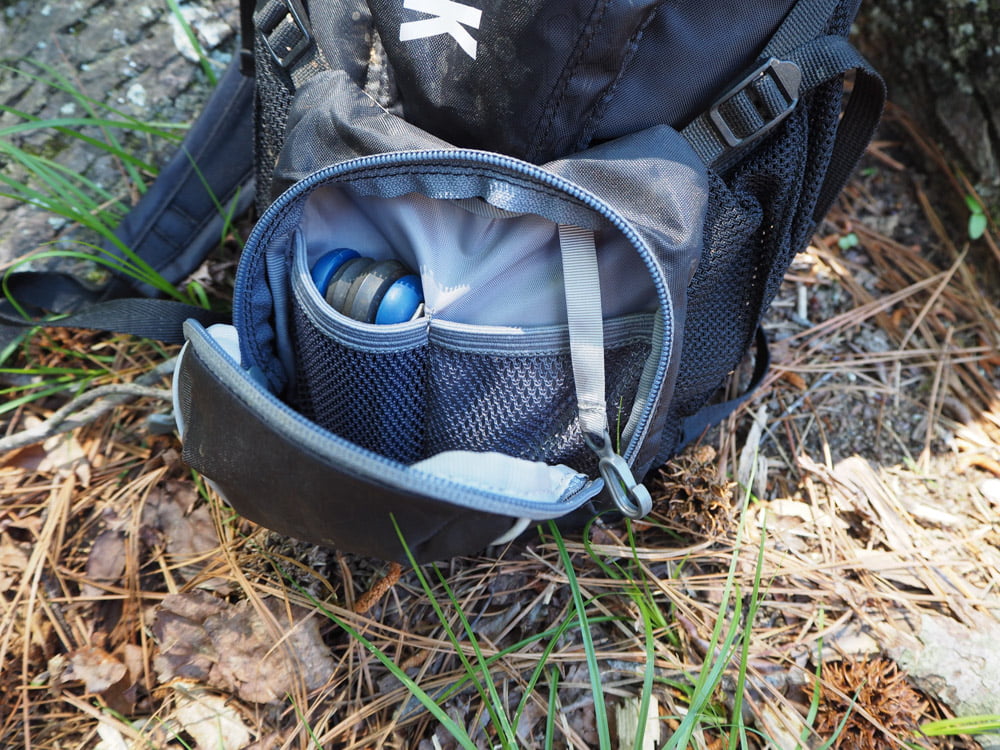 The back flap lifts up to expose the hydration bladder which features a large cap that CamelBak touts as an "Easy-Open Leak-Proof Cap." They claim, "it is redesigned for easier refilling and seals shut in just a few twists."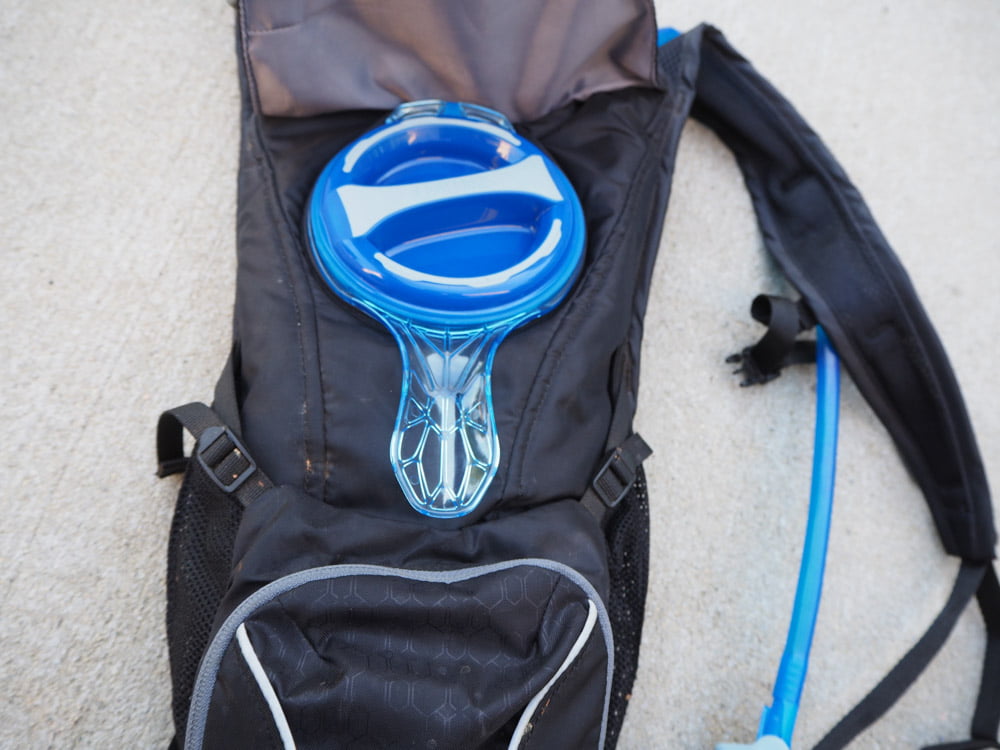 Even though CamelBak claims it's made for easier refilling and shuts better, I found that not to be the case. I typically fill the bladder by using a refrigerator and with the way it's positioned it almost always makes a mess.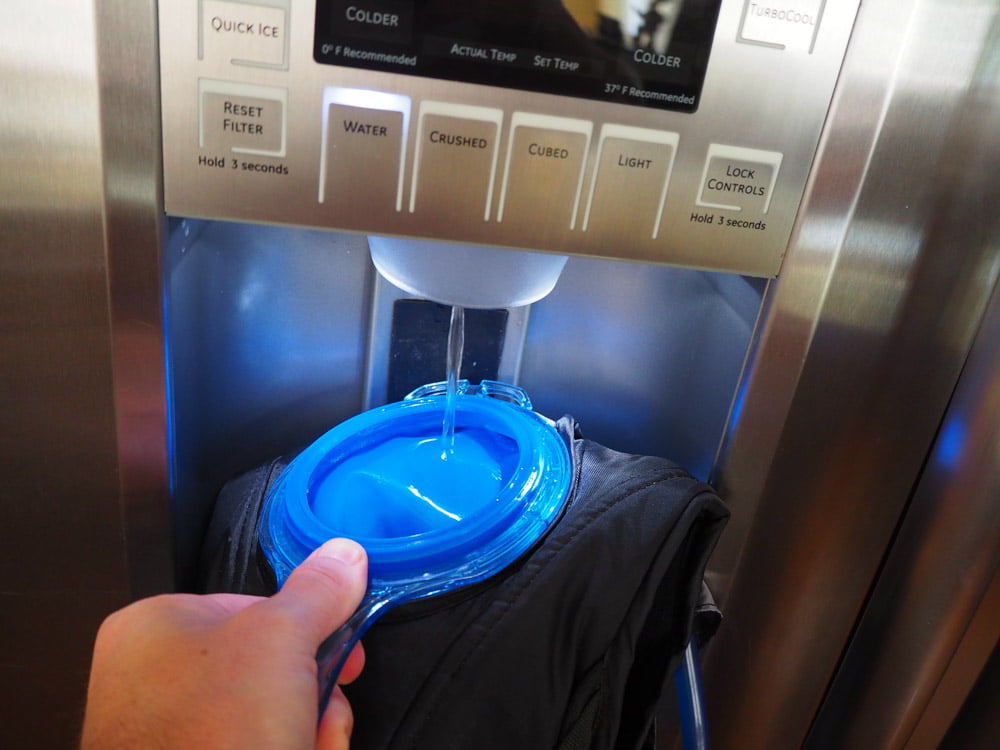 The plastic around the cap is so large that it makes it challenging to unpress the water dispenser, so it stops before spilling water outside the hole. The leak-proof cap is also not as easy as they claim. Because it shuts in just a few twists, you have to be very careful to get the threads lined up; otherwise, it will leak. I caused a few messes for this very reason.
Everything from the fabric, to the stitching, is solid, and the Rogue is a sturdy pack. After a year of heavy use, it's held up surprisingly well even with all the mud rides. Another nice feature is the hydration bladder is removable, and the outside is washable. That is great for keeping it clean and keeping those nasty smells from riding in the hot sun away.
The bite valve is large comes with a locking mechanism so you can be certain no water will spill out. Without it in the lock position water will come out even while riding, so I leave mine in the locked position until I'm ready for a drink.
I find the tube that runs from the bladder to the valve to be extremely long. I'm a short guy at 5'5″ and at times I've wanted to cut part of the hose off just so I didn't have to keep stuffing the excess back into the pouch.
As I mentioned earlier I've used this pack for every ride and having it with me is part of my routine. I've done everything from three to four hour-long rides to quick 3 milers at lunch, and it performs excellently. I've even taken a few hard falls and even lightly separated my shoulder while wearing this pack and it still feels as solid as the first day I tried it.
Overall I do recommend the CamelBak Rogue hydration pack, and I wouldn't hesitate to tell anyone to get this pack. I would, of course, mention that they should look out for the cap and to be sure they have it threaded correctly, but otherwise it's a great hydration pack.
At the time of writing the Rogue is currently on sale for $51.99 on Amazon with a retail of $70.00. It also comes in four colors, black, red, blue, or lime.
Pros:
Cost
Quality Construction
Easy to use bite valve
Cons:
Filler cap needs more threads
Long hose