Many people assume that having young kids means that mountain biking adventures will be fewer and farther between. Yes, there are balance bikes and bike trailers. But your 3-year-old isn't going to make it more than a few miles on a balance bike, and most trailers just aren't suited for singletrack.
Enter the Tyke-Toter. The Tyke-Toter is one entrant in a breed of new bike seats that positions your child above your top tube and between your arms. This positioning is key. Your child is not only protected between your arms but is also positioned near the center of gravity of the bike. Unlike systems that place the child near the handle bars or behind the rider the Tyke-Toter preserves the maximum amount of your bike's regular handling characteristics.
In addition, at $115 the Tyke-Toter is one of the most inexpensive child carrying solutions. It isn't quite as adaptable as a trailer, but the price and off-road capabilities make it well worth the price.
Installation
The Tyke-Toter comes with two main components, the seat and a footrest. The seat itself is attached to your bike using a quick release clamp on your exposed seat post. It goes without saying that dropper posts and carbon seat posts are out of the question here. The clamp has aggressive teeth but even so getting the right amount of tension when installing takes a bit of practice.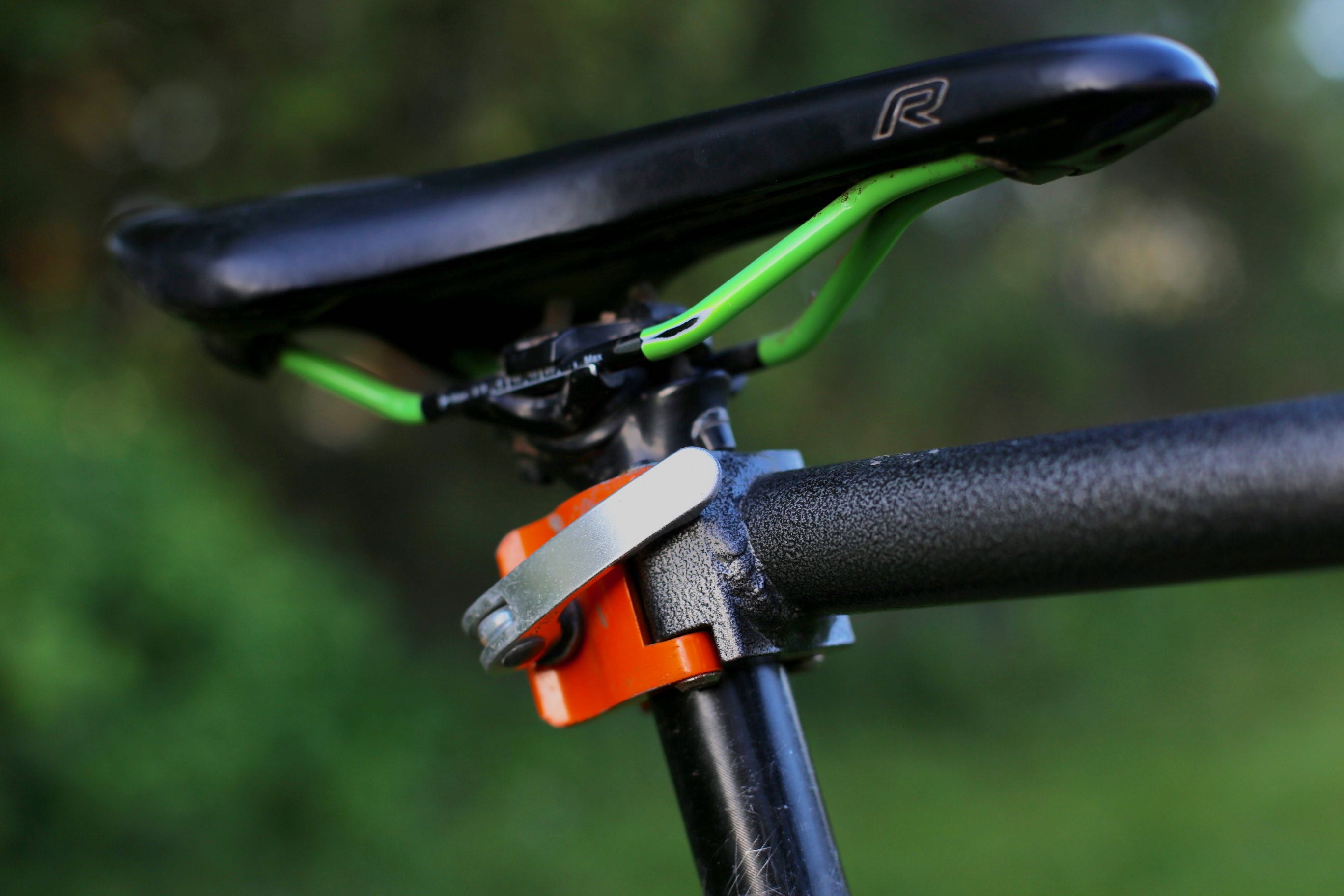 The foot rest is attached via two Velcro straps to the downtube of your bike. Tyke-Toter also supplies some self adhesive foam pads to increase the diameter of your downtube if needed. Again, I would be slightly nervous installing this on a carbon frame, but on an aluminum or steel frame it is no problem.
Modifications
I knew from the get go that I would be taking the Tyke-Toter off-road, that was my primary purpose in buying it. The Tyke-Toter though is not officially an off-road device, so everything from this point on is me sharing my personal experience, not in any way suggesting you should do the same. There are many different skill levels of riders and kids. You need to do what you think is safe for your child.
One of the shortcomings of the stock design of the Tyke-Toter is that the foot rest does not in any way prevent the child's foot from slipping forward into the front wheel. This is a legitimate concern depending on the bike the Tyke-Toter is mounted to. I mounted the Tyke-Toter to my Raleigh Tokul 3 which has a relatively slack 68.5 degree headtube angle. This meant that there was quite a bit of room between my son's feet and the front tire. Even so, I wanted to be safe instead of sorry.
I experimented with a couple of different solutions. In he end, the best solution to this problem was to drill some holes in the existing footrest. Then bolt on two plastic clips from old style clip pedals. These held my son's feet from sliding forward into the front tire, even on very rough terrain. This solution has worked surprisingly well and it would be great if Tyke-Toter added something like this to the product.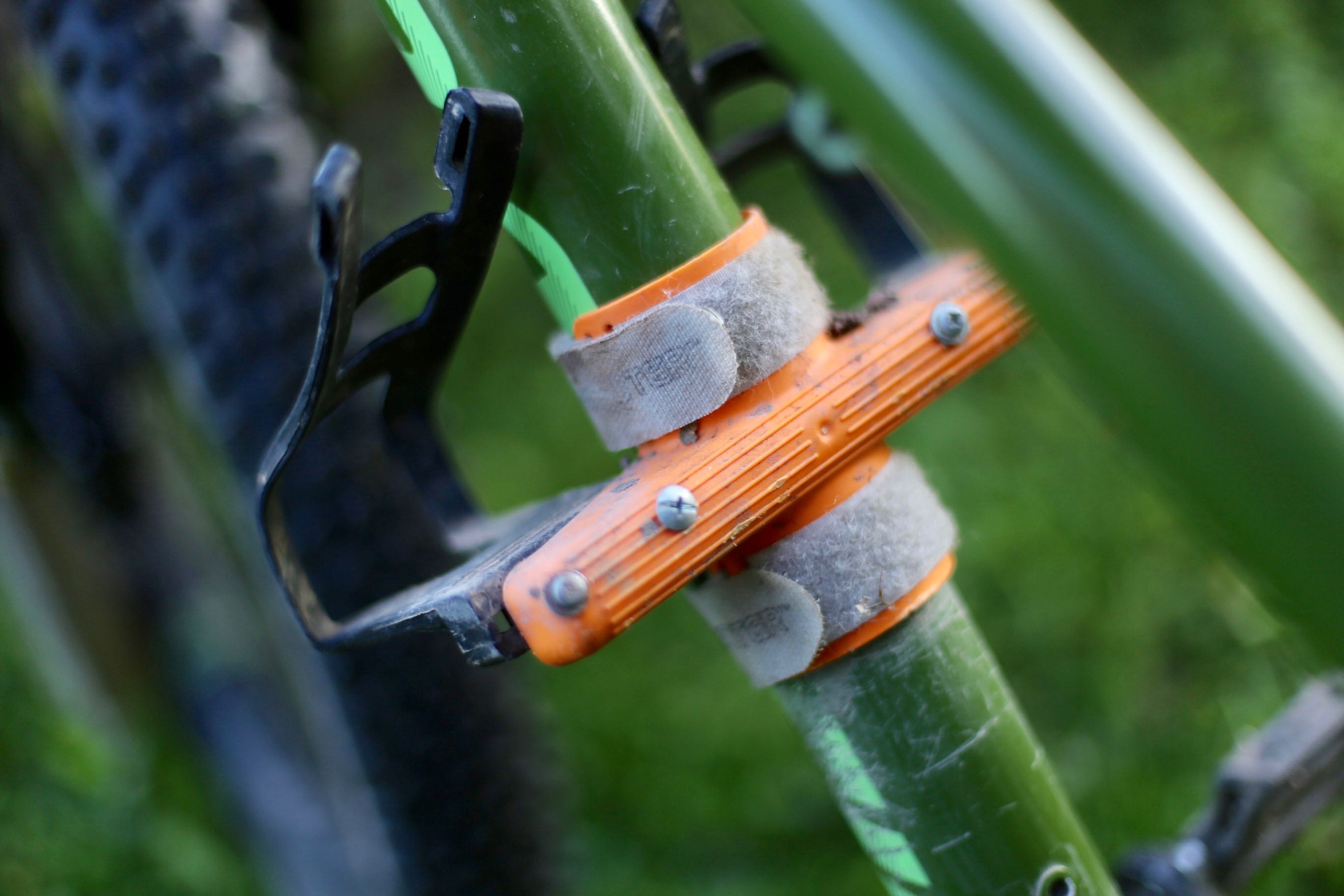 Riding
The first couple of times I took the Tyke-Toter out I was a little concerned. The width of having a 2-4 year old sitting in between you legs means that you end up pedaling a bit bow-legged. However, as I got used to it and my body adapted I realized that the Tyke-Toter is amazing. I'm able to do 75% of what I can do solo on my mountain bike with my kid tagging along.
This has opened up the opportunity for longer family rides covering 5-10 miles instead of 1-2. Also, I have been able to ride technical terrain that my son would not have been able to handle on his own. Here is an example from Grand Mesa Colorado, me and my son handling a tricky little downhill section without issue. You can hear how much fun he is having!
The Tyke-Toter comes with a small handlebar in front of the seat. This handlebar is comfortable for road and xc pedaling. However when things get rough my son switches to grabbing on to my bars directly. This gives him a much more stable body position. He can also stand up on the foot rest in order to absorb larger impacts and bumps. We've discovered a rhythm and communication style where I advise him of when he is going to need to stand up or switch to holding onto my bars for upcoming features on the trail.
I have found that when my son stands or sits up, there is a chance of me hitting my chin on the top of his helmet. I'm not overly tall at about 5′ 10″ so unless you are much shorter than me, I wouldn't be too concerned. Here is an additional video with more riding examples.
Crashing
Have I crashed the Tyke-Toter? Yup. Did anyone get hurt? I sprained my pinky. Seriously though, we've laid the bike down multiple times and I have to say the Tyke-Toter design seems pretty ideal. There are no straps holding my son in and he is immediately in my arms as soon as I let go of the handle bars. This means that when I hit the eject button he comes right along with me. This is much better than having him continue on with the bike.
We've low sided a couple of times. Stumbled off a couple of technical climbs. But our worst crash was a high-speed slide out on a wet wooden banked curve. Even in this instance though my son came away with a couple of scratches while I bore the brunt of the impact.
Final Thoughts
Even though it required a bit of modification to meet my needs I feel like the Tyke Toter is one of the best biking investments I have made. It has opened up countless possible rides that just would not have otherwise been possible. For a dad of 2… soon to be 3, the Tyke Toter has changed my riding more than dropper posts or great suspension designs. This simple tool has truly transformed real mountain biking into a family affair.
At $99 the Tyke-Toter has been more than worth the money I spent on it. It's become an indispensable tool in my bag of child hauling bike tricks. You can find out more about Tyke-Toter at https://www.tyketoter.com/
Buy Now
Pros:
Cost
Ideal positioning
Easy installation and removal
Super fun
Safest setup I've seen
Cons:
Foot rest should have toe clips
Will not work with dropper posts or carbon equipment
You end up biking a bit bow-legged
Shorter individuals may find the child's head bumping their chin